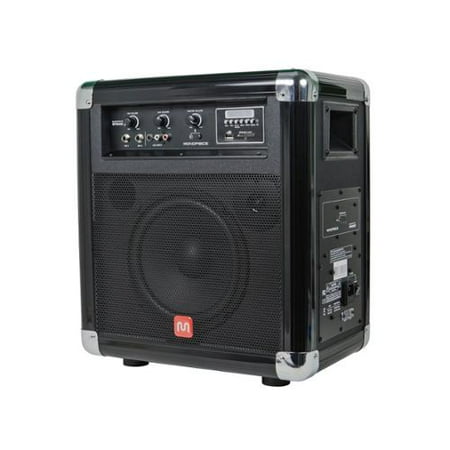 Bluetooth Party Speaker (10951) Bluetooth Party Speaker Be the Master of Ceremonies and the Disk Jockey at your next party, BBQ, camping trip, or family outing using this Bluetooth Party Speaker from Monoprice!This portable speaker system is designed to serve as both a music source and a PA system. It features an 8″ woofer and 1/2″ dome tweeter with a frequency response of 50 Hz ~ 20 kHz (3dB). It is powered by a built in amplifier that can produce up to 50 watts.The speaker system is powered using either an AC power connection or a built-in rechargeable lead-acid type powersports battery. When under battery power the amplifier can produce up to 18 watts. There are two primary methods of connecting to a music source:Bluetooth – you can stream music from your smartphone or tablet to the speaker system using a wireless Bluetooth connectionWired – you can connect a line level input into the 3.5mm TRS jack or into the two RCA jacksAdditionally, the system sports two 1/4″ microphone jacks, so up to two people can take the stage to MC or sing along with the music. The system features three individual volume controls for the various inputs:MIC VOLUME – controls the volume level of the two microphone inputs AUX VOLUME – controls the volume level of the line-level and Bluetooth inputsAdditionally, a single Master volume knob controls the final amplifier output level. All input channels are simultaneously active and are mixed into the final output. Full Specs Model:10951Woofer Driver:8″ paper cone with foam surroundTweeter Driver:1/2″ PEI dome tweeterPower using AC (10% THD):50 wattsPower using AC (1% THD):22 wattsPower using Battery (10% THD): 18 wattsPower using Battery (1% THD):15 wattsTHD @ 1W:0.2%Frequency Response:50 Hz ~ 20 kHz (3dB)Signal to Noise Ratio:-75dBSensitivity:86dB @ 1W/mAUX Input Sensitivity @ 1W:-30dBVMIC1 Input Sensitivity @ 1W:-50dB (balanced)MIC2 Input Sensitivity @ 1W:-48dB (unbalanced)Bluetooth Sensitivity @ 1W:-90dbm @ BER THDAUX Input Impedance:20 kilohmsMIC1 Input Impedance:20 kilohmsMIC2 Input Impedance:20 kilohmsBluetooth Impedance:50 ohmsResidual Noise with Gain at Maximum:4 mV*** 30-day easy returns. No restocking fee. Free lifetime technical support. 1 year warranty.
reviews
I love my speaker great for parties and get together
I just love this box
Great sound for the price!
received this item from the Walmart Spark Review Program for no compensation – just an honest review. The Monoprice Bluetooth Party Speaker is advertised as both a portable speaker system that can be utilized as either a music source and a PA system with up to 18 watts of power, either through your wall AC power connection – or LARGE rechargeable battery (think power wheel or motorcycle size). Instructions are minimal – and could use some improvement on functionality of the unity – such as how long to charge – and expected life of use. You can pretty much use the Monoprice Bluetooth Party Speaker for any type of audio you want, as it features a USB connection for flash drives or plugging in phones or other audio players. It also has 2 ¼" jacks to plug in microphones, guitars, or other instruments and equipment. The Monoprice Bluetooth Party Speaker also has a set of RCA jack inputs for additional functionality (think cd players, radios, etc.). Surprisingly – there is even a slot to insert your SD card with downloaded music on it! There are 3 separate volume controls (1 for the ¼" jacks, 1 for the memory cards, 1 master control). A squelch control would have been nice for those times when you get feedback from standing too close to the speaker with the mic – but this did not happen for us very much. At around 31 pounds – it is substantial – but – feels to be the perfect weight and is sturdy, while very nice looking. The fit, finish and looks of the speaker are great, and the wheels and extendable luggage handle are very nice touches. There are also handles built into the side to carry it. There is a hole underneath to mount it on a stand if you have one as well. It features an 8″ woofer and 1/2″ dome tweeter. Sound is appropriately loud, not too bass heavy and easily carried in several social settings we've used it in. This is a dual-voltage unit, with a 110/240v switch which is covered by a clear plastic cover that needs to be removed via screwdriver—so there is little chance of an accidental change. There is a remote control included for managing the USB and card slots but playing your music from your Bluetooth mobile device seems a lot easier – although there are no instructions on what the different buttons do. The included microphone has a hefty feel to it and worked fine for us. With the wife and I both playing guitar and singing for church services on a weekly basis – the Monoprice Bluetooth Party Speaker will get used when we need mobile audio!! Overall – we're impressed with the Monoprice Bluetooth Party Speaker! For small meetings, social events, whatever you need – you'll be surprised at all the functionality in the Monoprice Bluetooth Party Speaker!
ordered this for a body pump class , received the speaker while it has a nice look the usb port and the sd card slot were not on it as advertised, the remote control also was missing… i have contacted walmart 2 x , they in turn stated that the seller would contact me in one business day… as of today still no email from them its been nearly a week… besides the missing parts, the speaker doesnt have a good bass sound as compared to similar models.. And there were no instructions included at all on how to access Bluetooth etc..hoping for a return soon!!