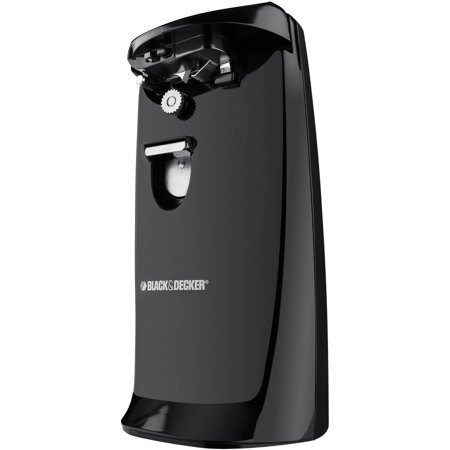 You can easily open up cans without mess using the Black & Decker Electric Can Opener. You no longer have to spend time in the kitchen trying to open a can of vegetables, milk, or preserves with a conventional can opener. This electric alternative eliminates the troubles and ensures that you don't have to do any of the hard work. This unit is built for your convenience. This extra tall can opener can be used to open cans of various sizes. The Black & Decker can opener has an easy-touch lever that activates the machine and an automatic shut off feature that stops the process once the can is open. This multi-functional opener also has a built-in knife sharpener that can be used to keep your kitchen tools finely honed. It also has a handy pop-top can opener that helps open pop-top lids in a jiffy. This can opener with knife sharpener includes built-in cord storage for your convenience.
California Residents — Proposition 65 warning:
We are providing the following California Proposition 65 warning for products linked to this page:
WARNING: This product contains chemicals known to the State of California to cause cancer and birth defects or other reproductive harm. About California Proposition 65:
California's Proposition 65 entitles California consumers to special warnings for products that contain chemicals known to the state of California to cause cancer and birth defects or other reproductive harm if those products expose consumers to such chemicals above certain threshold levels. We care about our customers' safety and hope that this information helps with your buying decisions.
Black & Decker Can Opener with Knife Sharpener:
Extra-tall base fits cans of many sizes
Built-in knife sharpener makes sharpening knives fast and easy
Handy pop-top opener easily opens pop-top lids
Easy-touch lever to activate
Automatic shutoff
Removable cutting assembly for easy clean up
Built-in cord storage
2 year warranty
Black & Decker can opener model # EC475B
reviews
this is a great Item. I purchased one over 5 years ago and thought mine had stopped working but turns out it was the wall socket and I threw my old one away already so when I went to the store I was so greatful that they had the same product you will get years of service out of this product.
Easy to use. Like the way it opens cans with me having to hold the lever down.
This can opener works great on regular size cans. I tried to open a LARGE can, but wouldn't work.
Awesome no problem with this product works well
This can opener, was extremely reasonable in price! The cutting unit comes off from the stand allowing for cleaning & preventions of old dry food to drop into the can being opened, thus avoiding food contamination. It is taller than an average opener to allow for a taller than an average can. Very attractive in appearance,this particular unit has a knife sharping unit on the back & an old fashioned bottle popper in the front directly under the can ¨cutter¨. The unit is a lovely addition to my countertop. A problem I found this order Gave the purchase no opportunity to order any color but black. Color choice is no problem for this buyer & I would recommend this item to any buyer for an electric can opener.
two pieces easy to assemble. but you have to press down a little hard to get can in position to cut the can
Works great. We bought it to replace a cheaper version that quit working after about a year of use. My mom has had one exactly like this for years and it still works great.
I use a can opener quite a bit. This is my second one like this. I used the first one so some cans that were very large. It held up to them for many years. It finally told me "enough" and decided to quit. For the price, it went above and beyond and did its job well.
This opener is a great product and comes with a great price. It is nothing fancy, not high tech or anything but looks nice and does what it is suppose to do with ease. Glad I found it.
I really liked it but it only lasted a couple weeks. Found out the cutter came loose. Tightened it and worked once again for a few cans. Same thing happened . Looked it over and realized where it is attached has a screw going into plastic . Maybe 2 turns then is peaned (sp) over. Kind of like hammered. Couldn't tighten again. Very poorly put together where its most important to have quality