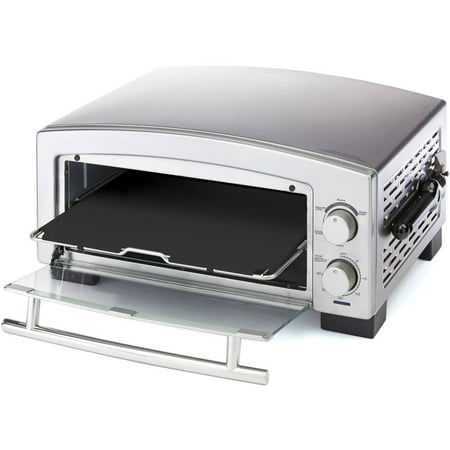 Rapid cooking with intense heat — that's the secret to a great pizza. And now, Black & Decker gives you both with the 5-Minute Pizza Oven and Snack Maker. That's right — just five minutes to bake a fresh or frozen 12-inch pizza! Custom engineered heating elements create high, even heat for a crisp, golden-brown crust and bubbly cheese every time. With individual settings for thin, deep and rising crusts as well as for frozen snacks and baked goods, you're just minutes from all your favorite foods! Plus, the attractive stainless steel exterior and brick-oven styling will look great in your kitchen.
Black & Decker 5-Minute Pizza Oven:
Bake fresh or frozen pizzas in just 5 minutes
Unique heating elements
Fits up to a 12″ family-sized pizza
Durable and dishwasher-safe ceramic-coated tray
Functions knob
Precision timer goes up to 30 minutes
Oven will automatically shut off when the timer reaches zero
Dual heating elements
Cool-touch handle clips onto the pizza tray
Model# P300S
reviews
it looks like a pizza oven which is awesome. It has settings for each type of pizza and it is quick. Customers love the taste of the brick oven. I serve frozen pizzas to customer and it taste very good after its cooked. The cheapest price on Walmart compared to everyone else when i bought it. Got it at a good time.
This was a present for my daughter, she said it worked great, better then the regular oven, the pics of the pizza she cooked looked delish!
I've had this pizza oven for two weeks now and cooked two pizzas in it. The performance of the oven is excellent, I make pizza's from scratch not frozen ones like most reviews. I lived in the North East for several years and really enjoyed NY style pizza's and tried to duplicate the pizza's with no success. I had the dough, sauce and cheese's down, the only missing part was a hot enough oven that didn't cost a fortune, I finally found the oven. The oven evenly cooked the pizza with a little bit of charring on the top and bottom of the pizza just like the NY pizza ria's do it. Who ever design this Pizza oven new what they were doing, "Good Job" my Pizza's came out great.
I've had this oven for a couple of months and for the first month I only cooked small snacks. It took a little bit getting used to for the different temperatures of the different snacks but worked perfectly. The next month I had a pizza party with pre-made crusts and the fixings on an assembly line. Within the time I prepared the next pizza the previous one was ready. I had pizzas coming out every 5 minutes and cooked perfectly. It was so much fun. I have Kitchen Aid double wall convection ovens which are wonderful but this has become my number one tool for pizzas and small items. Love, love, love this oven.
Definitely read all directions and follow accordingly and this works fantastically. We preheated for several minutes (30-45) to let all the oils and things burn off. Make sure you preheat with the tray inside if doing a frozen or refrigerated thin crust pizza. Center the pizza on the tray for even cooking. Keep an eye on it just to be sure it's done to your liking. We've done a refrigerated thin crust breakfast pizza twice and it's been perfect each time and it really only took 5 minutes! – I highly recommend this one it's a bit pricier than other options but it's totally worth it!
I just bought your 5 minute pizza oven. Read both books that came with it. Now I'm burning off the newness. Then I see there is not even a setting for 5 minutes! LOL Everything is increments of 2. Who engineered this unit? Your 5 minute oven so far is a bit of a joke!