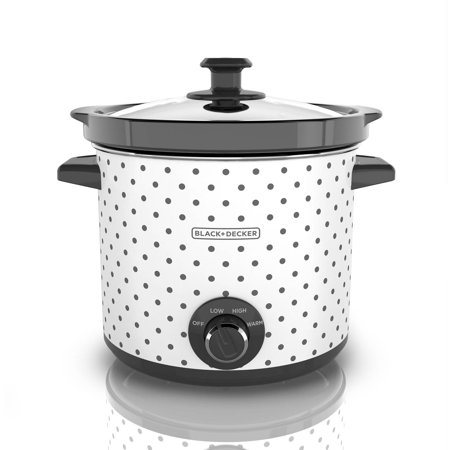 Make family meals simple and easy with the Black and Decker 4-Quart Slow Cooker. This large-capacity slow cooker features three separate heat settings so that food is always cooked to perfection and cool-touch handles ensure that food is always safe to touch and portable. A removable stoneware liner makes cleanup easy and the user-friendly mechanical dial makes this small appliance destined to become a kitchen staple.
California Residents — Proposition 65 warning:
We are providing the following California Proposition 65 warning for products linked to this page:
WARNING: This product contains chemicals known to the State of California to cause cancer and birth defects or other reproductive harm. About California Proposition 65:
California's Proposition 65 entitles California consumers to special warnings for products that contain chemicals known to the state of California to cause cancer and birth defects or other reproductive harm if those products expose consumers to such chemicals above certain threshold levels. We care about our customers' safety and hope that this information helps with your buying decisions.
Black and Decker 4-Quart Slow Cooker with 3 Heat Settings:
4 qt capacity
Easy-to-use mechanical dial
Cool-touch handles
Removable stoneware liner for easy cleanup
Tempered glass lid
2-year limited warranty
reviews
Black & Decker 4 Quart Slow Cooker I will start off saying the black and white polka dot design is so cute and looks very nice. I have used this slow cooker a few times and it was so nice placing all my ingredients in the pot and coming home to a meal already cooked. My meals were hot but not burnt. I made some soup for a work event and it came out great, not only was I able to cook it in the slow cooker but I was able to keep it warm all day during the event. It was so nice and easy for people to enjoy a hot bowl of soup throughout the day and not having to microwave it. The instruction booklet comes with some recipes and helpful hints. This slow cooker is light weight and is very easy to clean. The stoneware pot is removable and is dishwasher safe. The nice thing about the removable pot is that you can easily place it in the fridge and take it out later and let it heat up. There are 3 temperature controls Low, High and Warm. The warm setting was great for heating up my soup that I had placed in the fridge.
I love my new black and white polka dot 4 quart Black and Decker slow cooker! The first one I've had in years and couldn't be happier to have one again 🙂 Makes life so much easier just putting food in, setting on low or high, and having the meal ready 2-9 hours later 🙂 When it's done, you can keep it on warm till you're ready to eat, too. Whether you stay at home (like me), working all day, or just on the go, this is a wonderful slow cooker to own. Everything tastes so tender and delicious, too 🙂 I have this sitting on top of my mini fridge in my bedroom, since it's hard to get to kitchen area at times. The cord is only about 2 feet so could be a little longer. I like the cool touch handles, so you don't have to worry about burning your hands, and the lid can hang on side, while you're stirring, scooping out, or just to taste 🙂 The stoneware makes it easy to clean and cooks up food just right. There are so many recipes to make in this pot, from soups to roasts, to cookies, cakes, and other deserts. The instruction booklet gives a few recipes, but I found many more at crockpotgormet.net, and crockpotladies.com.
The Black and Decker 4-Quart Slow Cooker with 3 Heat Settings is a high quality appliance and is not complicated. It has one knob to control the desired heat. You can even switch it to warm up to four hours. It has a tempered glass lid that's fitted nicely and you can look in as your food is cooking. It looks so inviting, yummy and wholesome. The aroma is so teasing especially if you add herbs like rosemary, garlic etc. If you do remove the lid simply add an extra fifteen to twenty minutes of cooking time. One stoneware pot and tempered glass lid to clean which is dishwasher safe. This slow cooker takes away the headache, anxiety and grief out of cooking! No more hub-bub, topsy-turvy and disheveled pots all over the place. It gives you peace of mind and free rein to make your day flexible to go to the gym or that unexpected school meeting. It's so very satisfying and a delight when you come home from work tired and dinner is finished, delicious and sure to please everyone. Just a tad of prep work for the meal that may or may not be required. I received this the Black and Decker Slow Cooker the day before Thanksgiving. I am so glad and thankful. I added a 4-7 pound turkey breast with extra vegetables. Well, I received so many compliments and no work compared to the turkey in the oven! At first, I was instantly attracted to the Black and Decker 4-Quart Slow Cooker with the classic and polished appearance. I leave this one on my kitchen counter for show and usefulness. It takes less electricity than the conventional oven. When Summer comes around again I won't dread cooking anymore because it won't heat up my kitchen/house. Register online and it comes with a two year warranty. What a great gift or addition to your home! Free up your time and eat healthy!
I have a large7-quart slow cooker but since It's just me around the house anymore I really needed a smaller slow cooker for cooking smaller portions now too. This one worked very nicely. I wasn't too sure how much I would like it since my large one is fully programmable and I can start it on high for so many hours, then have it set to switch to low for so many hours, and then turn itself to warm for so many hours. Each setting I can do for anywhere from one to twelve hours. This one has high, low, and warm settings but it's all manual and you have to be there to switch it or know exact times it will take on one or the other so you can set it and let it go. First dish I made with it was Chicken Stroganoff. I put a frozen chicken breast, onions, seasoning, and cream of mushroom soup in and put it on low before I went to bed and by the time I checked it in the morning it had cooked the chicken wonderfully. I took the chicken out to cool added sour cream to the pot and turned it up on high to reduce a little for just over an hour added peas, tore the chicken off the bone and put back in the pot and let it continue to cook while I cooked noodles and it was an amazing meal. This slow cooker will make a very nice addition to all of my other kitchen electrics and gadgets!