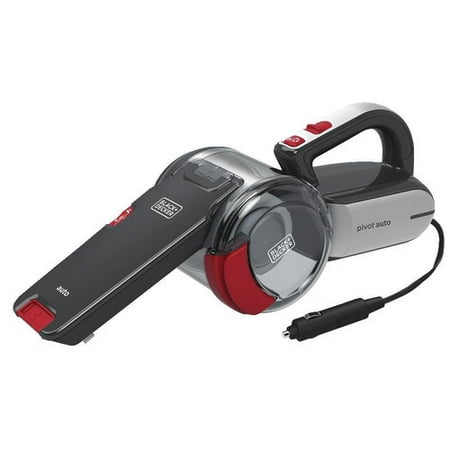 The Black and Decker 12V Pivot Auto Vac, BDH1200PVAV gives you a powerful tool to keep your vehicle clean. Featuring a pivoting nose with ten settings for maximum flexibility, it enables easy cleaning of hard-to-reach areas. The 16′ cable on the Black and Decker auto vacuum makes the tough areas of your car accessible, including the trunk. It is designed with a cyclonic action mechanism that spins dirt away from the filter, maintaining optimum suction power. You can easily keep your vehicle clean with this 12V handheld vacuum. It has a thick, rounded handle that is simple and comfortable to grip as you work. The compact size is also foldable, so you can wrap the cord up and store it in a variety of areas. This Black and Decker 12V pivot auto vac BDH1200PVAV even has an innovative bagless design.
Black and Decker 12V Pivot Auto Vac, BDH1200PVAV:
Pivoting nose has 10 settings for maximum flexibility
12V DC adapter fits into cigarette lighter socket
16′ cable
Black and Decker auto vacuum has a cyclonic action
Empty bagless dirt cannister
Filter refresh knob to improve suction power
3 stage filtration to prevent dust from escaping
Will fold in half with cord wrap
reviews
Works great for a 12v . Sucks well. Very pleased with my purchase. Would recommend.
It's not as powerful as a home vacuum, but it's good enough. I like that it doesn't loose the power, unlike cordless ones. I like it very much.