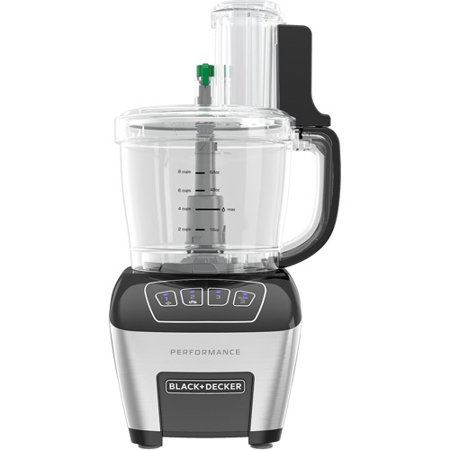 Take food prep to a new level of ease with the Black & Decker Performance Dicing Food Processor. With special blades and disks for slicing, dicing, shredding, chopping and even mixing dough, this powerful processor does it all! You can adjust the thickness of slices without taking anything apart, and the dicing disk lets you create perfect 8mm cubes for professional results at home. The extra-wide-mouth chute accommodates all types of foods and the 11-cup and 4-cup work bowls give you the right size for every task. All removable parts are dishwasher-safe and they store easily in the compact storage case.
California Residents — Proposition 65 warning:
We are providing the following California Proposition 65 warning for products linked to this page:
WARNING: This product contains chemicals known to the State of California to cause cancer and birth defects or other reproductive harm. About California Proposition 65:
California's Proposition 65 entitles California consumers to special warnings for products that contain chemicals known to the state of California to cause cancer and birth defects or other reproductive harm if those products expose consumers to such chemicals above certain threshold levels. We care about our customers' safety and hope that this information helps with your buying decisions.
Black & Decker 11-Cup Dicing and Slicing Performance Food Processor:
800W motor: this powerful motor works easily through anything you're slicing, dicing, mixing and so much more
Accessories: simplified dicing and adjustable slicing are just the start
The useful attachments include: stainless steel slicing and shredding disks, a dicing disk, a chopping blade and a dough blade
2 Work bowls: pick the right size bowl for the job
This set includes an extra-large 11-cup work bowl and a smaller 4-cup work bowl
Digital controls: the touchpad controls include 3 speeds and a pulse button and the panel is easy to wipe clean
Stainless steel base: the heavy-duty base stays in place through every operation with skid-resistant feet to add even more stability; plus, it looks great on your countertop
Compact storage case: all removable parts fit conveniently into the storage case so you can stay organized and save space
2-year limited warranty
Model# FP6010
reviews
This is the best food processor ever. It does all the things that other products either don't do or have to have extra accessories for. It is a COMPLETE product. I bake a lot of bread, and this does an excellent job handling dough. It dices, slices, chops, whatever. It comes with both a small bowl and a large bowl, to suit every task. It also has fabulous storage in a very small area. It has suction feet to keep it stable.
This food processor is exactly what I was looking for. For under $100, I can use it for dicing, cubing, mashing, kneading, pureeing. Have only used a couple attachments but all work great. A neat organizer box for the attachment is a bonus!
It works flawlessly. I am very satisfied with all the features and ease of use. Lots of different type of blades , shaft for different type and shape to cut veggies. Truly recommend…
It makes cooking very easy ! I love it. Slicing disc is good, but the plastic surrounding the blade is not firm enough to cut vegetables like carrots.
I wish I would have purchased this food processor sooner. The powerful motor shreds through fresh picked green papaya from my own garden in seconds! I've been making large batches of Som Tum in only a few minutes. Clean up is easy, too. This thing is saving me so much time… I'm VERY HAPPY with my purchase.
Works Great!! Only features I wish it had was a French fry disk and Julianne slicer!! The dicer disk is great ( just don't use soft tomatoes . And blades are very sharp!!
Though I haven't been able to utilize all aspects and tools this product provides the ones I have used have performed well and did not disappoint me. My only concern is the height of the unit while sitting on the kitchen counter. It does not quite fit under my upper cabinets which means I will have to get it out and set it up every time I need or want to use this in my kitchen. Just 1″ shorter and it would fit under the uppers all snug and comfy but ready to use quickly.
READ THIS REVIEW BEFORE YOU BUY!! We bought this after spending weeks on researching food processors. To replace the faberware that broke 3times in less than 6months. We we're about to spend about $400.00 on a breville sous chef since the cuisinart ones we were looking at were around $200-$300 & the contained BPA. One night we were at Walmart & happened to see this one on sale for $75.00 I needed something to help me with the Holliday cooking I couldn't do it alone(I had spinal surgery on 12-21-15) so we said we'd give it a try. We've used it to shred chicken breast, grade cheeses (mainly mozzarella, Colby,cheddar & jack,) make doughs (mainly pizza, & pie) we took marinara sauce we bought that had chunks of onions in it & we puréed it more to get rid of the onions. It did purée all the onions. As for the meats it did shred them evenly however like previously owned processors its best to not to use the shredding disc but we did & both the disc & blades did a greatgreat & even job. With the cheeses it shrealld all them evenly & there wasn't a lot of big chunks on the top of the disc when done shredding. It did great with the doughs as well. So don't spend several hundred dollars for other ones when this one did as well or better than the other big brands that we've had.
Black & Decker 11-Cup Dicing and Slicing Performance Food Processor was received for free through the Spark Reviewer Program. First starters, putting this thing together was no walk in the park. The description of the pieces and what should go where was a headache. The first time I finally got everything together and started the machine, without cutting anything, the machine would not turn off. I know I was pushing the correct button, based off the directions in the booklet, but it still would not turn off. I finally decided to unplug the thing. Also when I first hooked it up and turned it on, without cutting anything, I smell something burning and it was jumping everywhere. I am not sure if it was something I did wrong or what but I took it apart and started all over. The second time was a lot better than the first time and this time I was able to shut off the system without unplugging everything. I did not smell anything burning and I was able to put a cucumber in there. I wanted slices but it ended up dicing the cucumber. I pushed the buttons I was told to but it didn't come out that way. This machine is also loud.
Take food prep to a new level of ease with the Black+Decker Performance Dicing Food Processor. With special blades and disks for slicing, dicing, shredding, chopping, and even mixing dough-this powerf...
BD Perf Dicing Food Processor