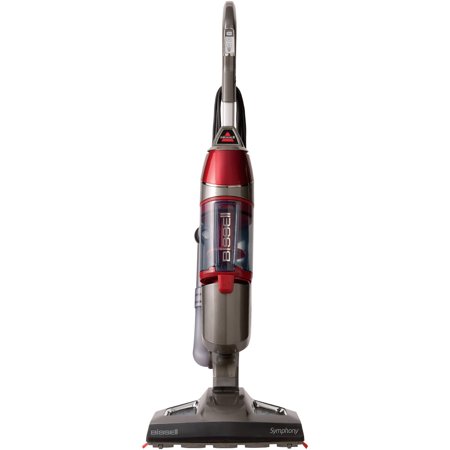 The BISSELL Symphony Vacuum and Steam Mop 1132 is the revolutionary product that vacuums and uses heated water to clean at the same time. This Symphony has a powerful cyclonic action vacuum that picks up dry debris and cleans wet, sticky messes in one pass. And with the power of steam, it eliminates 99.9 percent of germs and bacteria, removing the need for chemicals. This steam cleaner mop comes with two mop pads so you can have a spare on hand for whenever you need it. They feature microban to help eliminate odors for a more pleasant cleaning experience. The water tank is easy to fill so you can get back to work quickly and easily. Dry-Tank technology keeps moisture from building up inside the tank. The mop head releases quickly so you can swap it out on the fly. Bissell Symphony Vacuum and Steam Mop with 2 Mop Pads, 1132:
Easy-touch digital controls allow for a seamless switch between functions to match the cleaning power that is needed for every mess
Moisture won't build up in the tank while cleaning thanks to Dry-Tank technology
Bottom empty dirt bin and washable vacuum filters keep the system clean and running at peak performance
Filling the Bissell vacuum and steam mop's water tank is simple with an easy-fill opening, the large capacity means there's no need to stop and refill in the middle of cleaning
Designed with a quick-release mop pad tray so you can easily change out your mop pad
Bissell steam cleaner with 2 mop pads infused with microban to help eliminate odor-causing bacteria
Use as directed, results may vary
Tested under controlled lab conditions
Two-year limited warranty
Model# 1132
reviews
I purchased this thinking it could be used on laminate floors, but found out later this is not true. I wish you would have made that clear, now I have an item I can't use
The vacuum is lightweight and easy to use with a good length handle so I do not have to bend over to vacuum. The low profile head allows for vacuuming under low cabinets and furniture. The squared edges makes vacuuming along baseboards very efficient and the suction power is good and pulls in all of the pet hair. The steam mop heats up quickly and makes mopping my ceramic tile floors an easy task.
I bought this and the original Shark steam mop at the same time. This one cleans my floors way better than the Shark did. Not sure where people are getting the no auction because mine sucks up kitty litter hair everything. This one also doesn't leave streaks all over my floor like the Shark and is easier to make the steam continuous. I definitely feel like this is worth the price my floors are cleaner than they've ever been
I have used this one time and it worked OK but I don't think I would use it for deep cleaning, but it's ok for between the times you want to deep clean. It got the pad hot but I didn't see any steam like I do with my other steam cleaner. Not really sure if it's worth the money or not.
After 45 years in medicine, my back has had it. I saw the Bissell Symphony on TV and told my husband I had to have it. When the product arrived it was a life and back saver. It is easy to use and cuts cleaning time in half. I do not ever want to be without the Bissell Symphony . God Bless you Bissell
I love this machine, however, I've had to replace twice (under warranty thankfully) and Bissell has been great.about replacement. This time I do not think that I got a remanufactured model. I believe it's brand new. The warranty on machine is great. We have 4 dogs and I have a Roomba that cleans in between so I think this is a great idea. no taking out two different machines to do the floors.
Purchase my first 2 years ago. Absolutely LOVED IT! Great idea to kill 2 chores at once. Without our first year of the product I had to get it replaced but still within warranty so they replaced for free! Thank you Bissell! But this replacement I have ensured to take gentle care and also only use Bissell liquid instead of normal water. My 2nd replacement bissell now does not produce steam. The machine gets super hot in the front where the 'engine' is and no steam comes out. Now I have to take it to a shop and pay to have it fixed. I pay a good sum of money on something that within 2 years I will have to replace. Yes I use it a lot but my Shark lasted longer than this already!