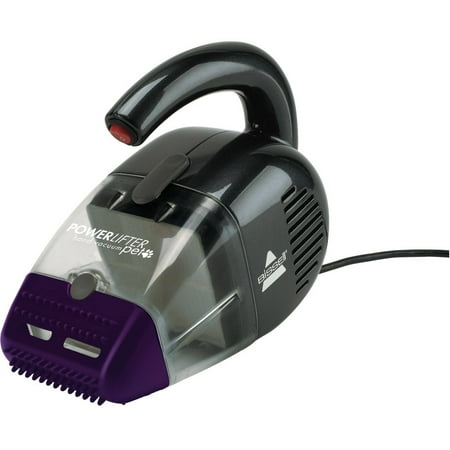 Keep your home clean with ease using the Bissell PowerLifter Pet Corded Hand Vacuum 33A1W. It is a powerful and convenient way to give any mess a quick and easy clean-up. With a contour nozzle, it cleans up dirt and hair while also eliminating problem spots such as armrests, automobile interiors and upholstery. Its hard nozzle effectively picks up dry messes like kitty litter, pet food and more to save you time and energy during your cleanup. The PowerLifter Pet Corded Hand Vacuum is lightweight and has an easy on/off switch for simple operation. It also features an easy-grip handle to make it portable. Other highlights include a cord-wrap system so you can easily go from room to room and store it simply. With a multi-layer filtration system, it also works to keep your air cleaner and reduce allergens.

Bissell PowerLifter Pet Corded Hand Vacuum, 33A1W:
Multi-layer filtration system
Specialized rubber nozzle attracts pet hair
Cleans stairs, upholstery and hard surfaces
Easy and powerful pet hair cleaning
Flexible contour rubber nozzle that bends and flexes easily to reach where pet hair and dirt collect
Also includes a hard nozzle that helps clean up dry messes
16′ power cord with wrap system
Lightweight: 4 lbs
1 year limited manufacturers warranty
reviews
I was looking for something to clean up after pets, and I wanted it to be small and simple. Then I came across this Bissell PowerLifter and decided to purchase it. I took it home to test it out, and it's great.
This is exactly what I was wanting to vacumn pet hair off the bed and other places. It has enough power to do just that and more. I am very well pleased.
this is my second vacuum.. the other one lasted about 8 years and just broke down from constant use.. i have two long haired cats and it does the job cleaning up the fur.. and anything else.. love this product
I needed something small to get cat hair off furniture. Was not sure this item was powerful enough to do the job. But for the price I decided to give it a try. It works great! The other attachment that comes with it, is great for going around baseboards. Also works great for comforters and curtains. Well worth purchasing.
This hand held vacuum is phenomenal. I am very impressed with the power of the suction and love the long cord. I would recommend this to anyone who would like to keep their furniture pet hair free.
we have numerous pets that shed. this is the first product/vacuum that makes removing pet hair fast and easy!
I like the compact design. Also, for the price, it's a very sturdy little guy. It has plenty of suction power for my two couches. The rubbery end helps with picking up the cat/dog hair. I found it easy to dump out the contents. It is small, so keep in mind, if you have a lot of cleaning, you will be dumping frequently. But for a quick clean up on the furniture, it is perfect.
It worked awesome for 2 weeks. Now the motor overheats after about 3 minutes and it shuts itself off. Gets SUPER hot. I can literally only use it for a few minutes. Sad as it was great for such a short life span.
Bissell PowerLifter Pet Corded Hand Vacuum, 33A1W: Multi-layer filtration systemSpecialized rubber nozzle attracts pet hairCleans stairs, upholstery and hard surfacesEasy and powerful pet hair cleanin...