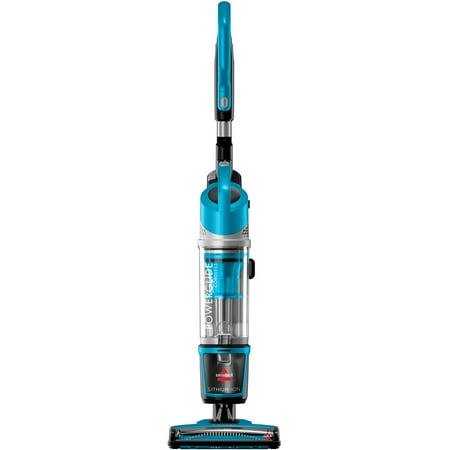 Powerful cleaning on carpets and hard floors, without the cord, the Bissell PowerGlide Cordless Vacuum combines the best of a powerful, upright vacuum and a lightweight, portable cordless vacuum. Unique lithium-ion battery technology delivers run times of up to 45 minutes with powerful, dual-cyclone suction. With Lift-Off Technology, it's easy to detach the canister to clean stairs, furniture, cars and hard-to-reach areas. Swivel steering makes quick cleanups a breeze with easy navigation around furniture and in tight corners. The quick-release hose and wand offer extendable cleaning without the hassle.
Bissell Powerglide Cordless Upright Vacuum, 1534:
Lithium-ion battery delivers up to 45 minutes run time from a single charge
Lift Off Canister: get to stairs, corners or even your car with ease
Multi-Surface cleaning: brush and power controls
Includes swivel steering for easy navigation around furniture
Super quick 2-hour battery charge
Lightweight: only 11 lbs
Quick-release hose and wand
Dual cyclone technology
Washable pre-motor filter
Removable battery with separate charger
2-year limited warranty
Model# 1534
Warnings
:
California Proposition 65 Warning: WARNING: This product contains chemicals known to the State of California to cause cancer andbirth defects or other reproductive harm.
reviews
Excellent vac. Easy to use. I like..
I have 2 toddlers and a dog that sheds A LOT! This vacuum does its job by picking up all of the dirt and hair. Its very loud though and is heavy to push.
This is an excellent piece of cleaning equipment. I loved it so much I bought my daughter one as a gift!
I would like to rectify my previous rating of a 1 star. My Vacuum had stopped working after a month, was just getting clogged every time we used it. I was very upset and contacted Bissell to complain. Elaine was very kind and helpful. It turned out all my vacuum really needed was a good filter clean (which only took a few minutes and then a full night for complete dry time) We do a lot of heavy duty vacuuming in my house with a husky and a 2 year old running about. After I did the cleaning everything that was clogged in the vacuum came shooting out into the canister and it worked like new again. So very happy that's all it took. Elaine's costumer service was excellent!!! Thank you again.
WOW, WHAT AN IMPROVEMENT OVER THE BISSELL BOLT STICK VAC. IT WAS WORTH THE EXTRA EXPENSE. IT IS A BIT HEAVY BUT I CAN MANAGE IT OK AND I'M DISABLED. MADE REALLY WELL AND STURDY. A BIT HARD TO GET THE BATTERY OUT OF THE UNIT TO CHARGE IT BUT AGAIN, I FOUND THE KNACK OF IT. GOOD THAT IT ONLY TAKES 2 HOURS TO CHARGE THE BATTERY AND THAT IT HAS A 45 MINUTE RUN TIME. THAT IS A BIG IMPROVEMENT AS WELL. I WAS VERY HAPPY TO SEE HOW NICE IT WAS. HAS GOOD SUCKING POWER. THE FACT THAT THE UNIT SEPARATES TO BE ABLE TO USE THE EXTENSION EQUIPMENT IS SO NICE. I CAN GET TO ALL THE COB WEBS ON THE WALLS AND EVEN THE CEILING. REALLY NICE PRODUCT……SO WAY MUCH BETTER FOR THE PRICE.
i have owned several cordless vacuums. this vacuums' battery seems to last longer than any i have had in the past. it works very well, however, it is quite "top heavy" and does not work well on heavy pile carpeting.
I love, love, love this vacuum! I have 2 large dogs and hardwood floors so I'm constantly cleaning up hairballs This vacuum does the job! I love the cordless feature. I love that the battery comes out for charging. This means I don't need to keep it on a charging base in between uses. I just store it in a closet. The battery life is great, too. This machine allows me to love my hardwood floors again!
It didn't come with a charger or manual. Called Bissell and they sent me a manual. They have no chargers and don't know when they will be available. Can't use it. Just setting here like a decoration to look at.