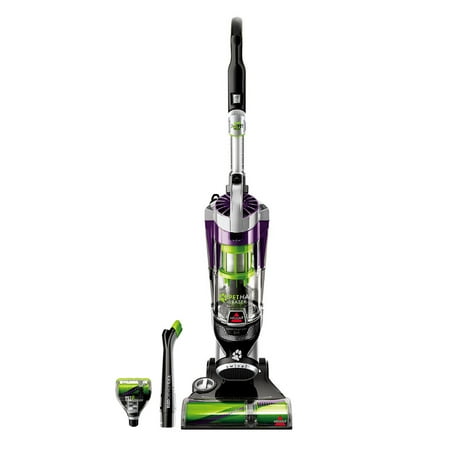 Nothing puts a vacuum to the test quite like a home with pets. That's why the BISSELL Pet Hair Eraser was developed from the ground up by pet parents for pet parents. Whether it's shedding season for your dog or your cat tracks kitty litter all over the house, this revolutionary vacuum is designed to make cleaning up after pets and the people who love them a breeze — from beginning to end. Say goodbye to hair wrap with its Tangle-Free Brush Roll, remove embedded hair everywhere with specialized pet tools, help capture allergens and eliminate odors with the SmartSeal Allergen System, and when you're finished cleaning, enjoy a hands-free tank empty with our patented Cyclonic Spooling System. Bissell Pet Hair Eraser Upright Vacuum, 1650W:
Engineered for homes with pets
Tangle-free brush roll
Patented cyclonic pet-hair spooling system for a hands-free empty
Specialized pet tools with quick-release wand to capture pet hair anywhere
LED-Lit crevice tool uncovers hidden dirt and Pet TurboEraser Tool removes embedded hair from carpets and upholstery
SmartSeal Allergen System with Febreze Pet Odor Eliminator Filter helps trap allergens inside the vacuum and eliminates pet odors as you vacuum
Model# 1650W
reviews
My husband is allergic to cats. This product has helped significantly is making the house liveable for him
I like this product, but it isn't really designed for a super deep clean, better for everyday clean up.
I love my Bissell Pet Vacuum, I have 3 for 3 different houses, I would like one for my daughter in Alaska but I put the incorrect address in so will have to try again.
I am a clean freak and I never knew how much dog hair and dirt was left behind by the old vacuum until using the Bissell. Great suction. We were amazed and disgusted by how much hair and dust was being left behind before. Clean carpet and hardwood floors guaranteed. It is easy to assemble and even easier to use. Nice, long cord. Easy to move around. The onboard tools are fantastic! And with the detachable tank, I can now easily get to all of the hard to reach areas throughout the home AND the cars! This Bissell vacuum is better than I ever expected. I HIGHLY recommend it to everyone and anyone. Give it a try, you won't be disappointed.
Totally amazing. Light weight and moves effortlessly over the carpet, and the dog hair really does not get twisted around the brush. Rug attachment awesome
This vacuum actually picks up pet hair like it says it will. My 4-year-old grandson is very impressed as well. He'd seen the TV commercials and had to try mine out. He had a great time vacuuming up pet hair for quite awhile. It's also very easy to empty and the pet hair doesn't get stuck like it did in my previous vacuum. I'm very happy with this vacuum.
I bought this thinking it would be great to get the dog hair up. I used it once and the rollers stopped rolling. I removed the "stuff" in the brushes from the roller but still not moving. So far, not happy with the purchase.