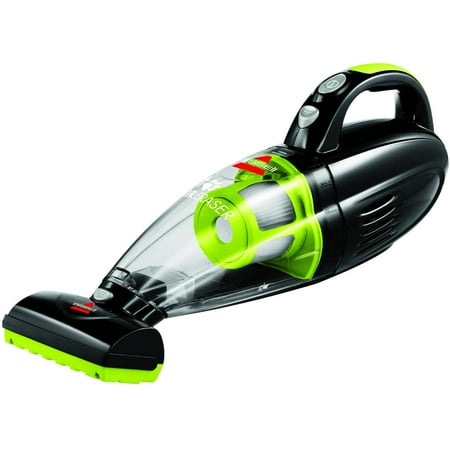 Keep your home clean with ease using the Bissell Pet Hair Eraser Cordless Hand Vac 1782. It is a powerful and convenient way to give any mess a quick and easy clean-up. The motorized brush head provides powerful suction, while the felt on the detachable brush helps capture more embedded pet hair and dirt. Eliminating problem spots such as armrests, automobile interiors and upholstery with the specialized pet tools including a crevice as well as an upholstery tool. Its hard nozzle effectively picks up dry messes like kitty litter, pet food and more to save you time and energy during your cleanup. The pet hair vacuum cleaner is lightweight and has an easy on/off switch for simple operation. Other highlights include a 1 year warranty, extended runtime battery, and multi-layer filtration, working to keep your air cleaner and reduce allergens. Don't forget, Bissell will donate $5 to help save pets with an activated purchase at Bissell.com/savepets.
Bissell Pet Hair Eraser Cordless Hand Vacuum, 1782:
Cordless pet cleanup
Specialized pet tools
Capture more embedded pet hair with the detachable motorized brush
Extended run time
Model# 1782
reviews
I use this on my stairs and furniture. Does a bang up job. Wish the beater bar got in to crevices a bit better.
Mostly use this in my car and it works so well! Once I figured out what I was doing I've been using it weekly and my cars never been cleaner. Bissell has yet to let me down
We have only had the product about a month. The real test is how long it will last and operate like it is new; maintain suction, battery charging capacity.
To use for a every other day to clean pet hair off couch cushions and pillows without taking out main vacuum cleaner. Works wonder on area rugs and bedspreads!! One of the best yet!!
Works great inside for quick jobs and vacuuming furniture, but it's also great in the garage for cleaning ip little messed and getting dog hair out of my car.
I have a yorkie. She sheds hair. This product is heaven sent. It removes all of the dog hair & pet dander from my sofas, carpet, curtains & fabric chairs. I even use it on my box spring. I love this item!
I use it everyday to keep metal chips under control. We have a black Lab as well, so it is full of dog hair and metal chips when I finish. I would have a big mess without it.
It cleans very good and is very strong,does an good job cleaning up messes or cleaning up dog hair as well easy to operate and it has double filters I very strongly recommend this vacuum it's works as good or better than a 18 volt model.
Bissell has the worst customer service, I will never purchase from them agin. I have a defective Pet Hair Eraser® Cordless Pet Vacuum | 1782 and it was only used for 2 months. The Vacuum didn't take a charge. Bissell even acknowledged it is in warranty and wouldn't let me return it. So the customer service rep asked for the model no of the charger and he told me it was wrong. I explained to him it had Bissell imprinted on it and also the Vac Model no as it came in the box with the vacuum. I then asked him what model no he had and he refused to give it to me. Then he put me on hold to get his manager and after waiting for 30 minutes on hold I hung up. Lucky I didn't purchase from them and am getting a full refund.