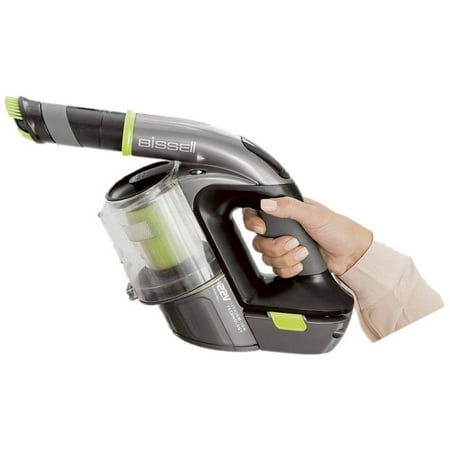 High powered cordless cleaning in a lightweight design with a wide variety of tools makes the Multi Cordless Handheld Car Vacuum Cleaner one of the best from BISSELL?! The ergonomic soft-grip handle design gives comfort with total control to clean anywhere in your home or as a cordless car vacuum. Multiple tools and attachments are stored on the cordless hand vacuum, ready for use right when you need it. The high-powered motorized brush roll means cleaning pet hair or deep down dirt from carpet and upholstery is easy. Removable dirt bin offers flexibility in how you clean and where you empty. The removable battery allows you to charge your battery while storing your vacuum where ever you want.
Bissell Multi Cordless Hand Vacuum, 1985:
Cord-free cleaning
Lightweight
22V lithium-ion battery
Fade-free suction
15-minute run time
Includes multiple specialized tools
Built-in extension hose
Mess-free easy empty
Easy charging with removable battery
reviews
Like the fact that I can get an extra battery if needed.
I have mainly used this product around my van and it works very well.
I always bought the Dyson which they are getting to expensive and you have to buy the accessoiries separetly? Whwn I was reading about the Bissell iInotice that whwn you push the start button you to have to hold constantly? With the Dyson ou have to hold the start button constatly and it is very exhauted after a while especially if you have arthritis. The Bissell is as good as the Dyson technology are the same and actually the Bissell power is 25 mts power time and Dyson is 15 mts power time before you have to recharge
Replaced an older cordless hand held vacuum with this Bissell Multi-Cordless hand held one and I was pleased with the amount of suction power this has. I also appreciate all the extra cleaning attachments. I miss having a storage bag, which could be hung, to store the attachments/accessories. I will hang a weave basket for storage! I feel having a rechargeable removable lithium battery will prolong the life and give a longer strong charge for optimum cleaning. You can't go wrong with the built in dual light allowing you to see all the dirt! Definitely worth purchasing.
I originally chose this as a solution for the daily clean up of pet hair. It is very powerful and quickly solved that problem as well as other heavier debris brought indoors. I absolutely love this machine! The charge lasts a very long time and the attachments are perfect and easy to use for quick clean up and dusting on all surfaces.

I loved this cordless vacuum! It has all the tools that I need to get to the hard places to reach in my car.

This unit is small, light, cordless, and amazingly powerful. I used this to clean upholstery, carpeted stairs, cat's bed, carpet and rugs in my camper, and the carpet under my bed in my house. I think the amount of power and running time of this cordless vacuum is outstanding! Charging the battery is very easy. The one thing I recommend to any one that gets one of these is to empty the cannister often and clean the filter when needed. If you think about it the less dirt in the cannister and the cleaner the filter the better it will pickup and the longer it will run per charge because it won't have to work as hard. I also love the box it came in. It is the perfect way to store this and keep everything together. It also makes it easy to grab to take it out to the garage or camper. Keep up the Great Work Bissell!!

Very little suction, pet hair gets caught in brush end of tools not enough suction to get them into dust collector. pj Westminster colorado
Bissell Multi Cordless Hand Vacuum, 1985:Cord-free cleaningLightweight22V lithium-ion batteryFade-free suction15-minute run timeIncludes multiple specialized toolsBuilt-in extension hoseMess-free easy...
BISSELL Multi Cordless Handheld Vacuum Ever wish you could wave a magic wand and get your home top-to-bottom clean? Well, there's no magic involved, but the BISSELL Multi does the next-best thing. Cor...