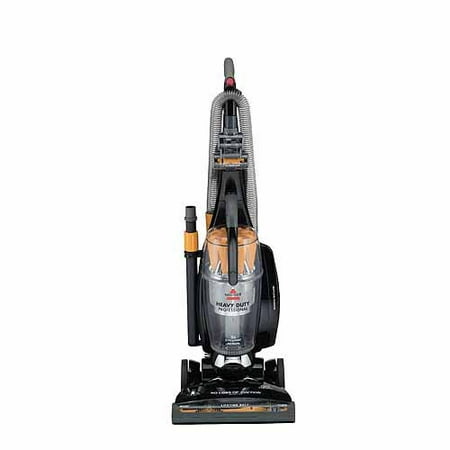 The Bissell Heavy-Duty Vacuum 93Z6W will provide you with nine powerful cyclones to get any clean-up job done right. It features reliable suction, giving you confidence in its performance. The Bissell floor vacuum offers multi-level allergen filtration that will keep your home free of the debris and dust that can affect your health. This item even has an extra-large bin that makes cleaning a breeze. The dirt vacuum comes with a lifetime belt, ensuring that you don't have to replace it throughout the life of your household helper. This appliance has fingertip controls, making it simple for you to get started. Bissell Heavy-Duty Professional Vacuum, 93Z6W:
Powerful cleaning designed for every surface
No loss of suction with 9X Cyclonic Action
Brush on/off for scatter-free cleaning
Multi-level allergen filtration
XL bottom empty dirt bin
Lifetime belt
Fingertip controls
30′ power cord
10′ cleaning reach
Telescopic extension wand
TurboBrush tool for stairs and pet hair
Dusting brush
Bissell floor vacuum has a 6-year warranty
Model# 93Z6W
Primary color: Blue
reviews
This is an excellent vacuum cleaner! Definitely commercial grade and built to last! It is exceptionally well designed, including all attachments, and does it all. It is heavier than most models, but the performance outshines the competition. We are very pleased with this choice, and expect it to serve us very well for many years!
I use this vacuum throughout my entire house with no problems at all! Most of my floors are tile except for three carpeted bedrooms! this vacuum has made my life soo much easier! The amount of dirt that was lurking around on my floors and carpets left by my old vacuum was embarrassing!!! I love my new vacuum!!
Picks up great, a little heavy to push and hope the wheels will last. Used twice and wheels seem a little wobbly because they're so big.
This vacuum has great power and it's easy to use all the attachments. The vacuum is bulky and heavy but it's never been issued for me.
Works great, the suction is incredible, with a one day pass I was able to fill the container compared to an older model bissell which took a month to fill it. It definately does the job.
I bought this vacuum because my Kirby has bags in it and I have 2 dogs I fill a bag every 3 to 4 weeks anybody that has a Kirby knows that the bags are EXPENCIVE some where between $3.00 to $8.00 a bag, I'm not going to throw away $30.00 every 9 to 10 months when there is a vacuum like this one out there for $135.00 this vacuum works great picks up dog hair as good as the Kirby and I don't waste any money on bags! the only draw back is that it's not self propelled other then that it works great.
Vacuum works well, and it's easy to empty. We have several cats, and it's picking up a lot of cat hair that was evidently missed by the previous vacuum. So much so that we had to take it apart & clean it out thoroughly, but that wasn't a difficult process. Overall, we are really pleased with this vacuum. We decided on it because we've used Bissell carpet shampooers for years, both rented and finally purchased, and felt that the company knows what they're doing for carpet care. We've had it over a month, and so far we're not disappointed with this vacuum.
This vacuum is truly heavy duty. Works wonders on thick carpet, as well as with vacuuming up after our Flemish Giant rabbit (which most vacuums cannot handle vacuuming up the hay, the fur, and big droppings, after a while most vacuums start to have issues when used to vacuum after our rabbit). Also works spectacular with vacuuming cars. All in all this is the best vacuum I have ever bought. Easy to clean easy to use. It is heavy, but that is to be expected for it be to heavy duty.
I purchased this Heavy Duty (93Z6W) to replace my Healthy Home vacuum that I loved because of the lifetime belt and 9x cyclonic action. I have a kitten that is constantly spilling dry cat food everywhere, especially on carpeting. THIS VACUUM ONLY PUSHES THE KIBBLE FORWARD — it doesn't suction it up like my Healthy Home did. What a pain — and same result regardless of the carpet height setting. It does do a fantastic job on cat hair and dirt in the carpet. WHY WON'T IT PICK UP KIBBLE ?? Really annoyed: $184 for a vacuum that does a half-baked job.
Bissell Heavy-Duty Professional Vacuum, 93Z6W: Powerful cleaning designed for every surfaceNo loss of suction with 9X Cyclonic ActionBrush on/off for scatter-free cleaningMulti-level allergen filtrati...