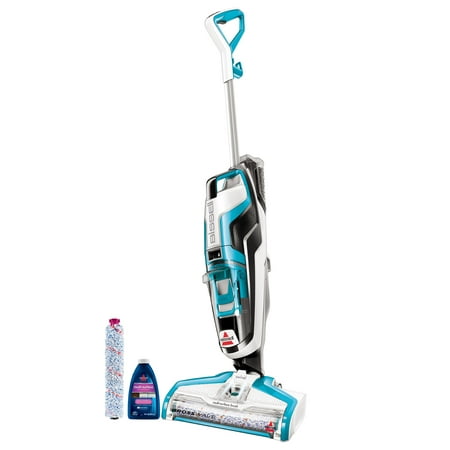 Vacuum and wash your floors at the same time! Get your hard floors cleaner than you could have ever imagined! The BlSSELL CrossWave is a revolutionary all-in-one, multi-surface cleaning system that vacuums and washes floors at the same time. With a Dual-Action Brush Roll rotating at 3,000 RPM and an innovative multi-surface cleaning solution, the CrossWave cleans better than a sponge mop and bucket, in less time*. Plus, with the touch of a button, you can seamlessly switch from cleaning hard floors to vacuuming and washing your area rugs. All with one machine.*Measured by BTP0257 hard floor soil cleaning test With the BBissell CrossWave? All-in-One Multi-Surface Wet Dry Vac, 1785W you will get the shine you want with minimal effort.

Bissell CrossWave All in One Multi Surface Wet Dry Vac, 1785W:
Vacuums and washes floors at the same time
Cleans both sealed hard floors and area rugs
Dual-action brush roll
Smart-Touch controls
Bissell multi surface cleaner has a 2-tank system
Integrated carrying handle
Easy-remove brush window
Swivel steering
Multi-surface cleaning solution
Easy-clean storage tray
Solution tank holds enough solution to clean up to 700 sq ft
2-year limited warranty
Model# 1785W
reviews
I use it for every room in my house. I do animal rescue and it has been a floor saver!!!! I love it!
I have a surgery on my back and have multiple injuries to my arms and neck ao to vacum and mop at the same time is great. The machine is light weight and easy to work and clean. I have a cat and dog it picks up the hair very well . I only wish the cleaner came with a better scent
I love the Bissell CrossWave. I have a bad back. Before the CrossWave I had to sweep, mop, and change dirty water. Took me several hours and sore back. Now with the CrossWave I can finish in little over an hour with no back pain. Wish I had one a long time ago. Love it bunches.
Having this CrossWave was a very smart purchase for me it saves me a lot time and work on my bare floors I really enjoy using it
I was able to take it out of the box and use right away. I love that it can be used on wood flooring and the tile I have in my house.
I love, love, love this crosswave cleaner! I have lots of tile and dreaded the chore of mopping it all not to mention the time involved. My life is so much easier now. Thank you Bissell!
We recently installed ceramic tile in all areas of the house except the bedrooms. We tried several cleaning methods including a wet mop then decided to get the Bissell after reading pro and con reviews. One of the negative comments was that it leaked cleaning solution. It is possible to cross-thread the cap on the solution bottle which will cause it to leak. Generally, the Cross Wave works well and cleans as advertised. Here are my observations related to giving it less than 5 stars. 1. As others have stated, it does not get close to the baseboard requiring some hand moping. 2. I would prefer a wider head to reduce cleaning time. 3. It seems to me the recommended ratio of solution is greater than necessary. I use about half the recommended amount and feel it cleans well and leaves less soap residue on the floor. 4. I have tried a water only rinse, but that doubles cleaning time. 5. The Multi-surface Cleaning Formula seems expensive. 6. The instructions state that the solution should be applied on both forward and back strokes. I tried applying only on the forward stroke and found I used a little more than half the amount of solution while still getting the gunk off my floors.
This is such a brilliant product! Any machine that can vacuum and mop at the same time saves so much time with cleaning!
I read the reviews and bought the machine and It is the most horrible cleaning tool I have purchased. I have aggregate floor, laminate wood and tile all mixed with area rugs. I am better off with a vacuum and a steam mop. Streaky dirty water, dog hair and dirt stuck in intake, does not suck up the water to clean the floor, leaves residue on the floor as well as hair and dirt. Moving from hard floor to area rugs leaves dirt and dog hair on the carpet. The spraying system seems to not spray evenly. It is especially frustrating when the intake gets clogged because the vacuum is not constructed correctly and I have to take it apart and clean out disgusting filth so I can continue cleaning. This machine does not work for me at all and I am returning it. I am extremely disappointed. I tried it for three weeks hoping it was me but no, it's not a good machine. It simply does not function very well at all.