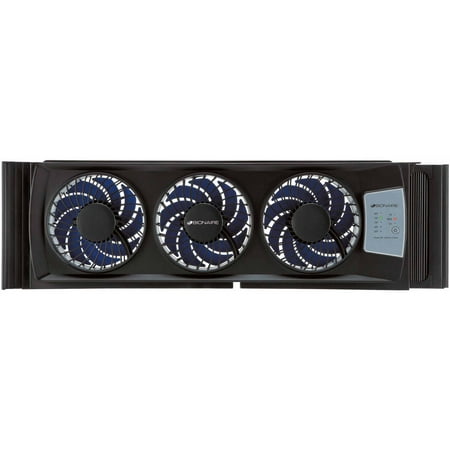 Enjoy invigorating, revitalizing coolness for maximum comfort with the Bionaire Electric Thin Window Fan. Stagnant air dissipates so that you can go about your activities at home refreshed. It's a smart choice for anyone who needs to regulate temperature in a room but doesn't have space for a bulkier unit. This powerful black window fan offers 40 percent greater air velocity than similar models and 25 percent more compact to reduce window obstruction. It fits within most casing styles and offers a streamlined aesthetic that complements just about any home interior and exterior. Its black finish blends into surroundings, minimizing its presence. This Bionaire window fan features three powerful blades to move air and create a refreshing breeze. The three speed settings and independently controlled comfort settings let you adjust to suit your personal environmental needs.
An easy to read digital LED control panel lets you make changes virtually effortlessly. Engage the electronic thermostat for carefree adjustments. Patented locking extender screens provide a customizable fit. Use this black window fan in your window either horizontally or vertically.
Bionaire Electric Thin Window Fan, Black:
More powerful and more compact
Bionaire window fan with 3 independently controlled comfort settings
3 speed settings
Digital, LED Control panel
Electronic thermostat
Patented locking extender screens
Dimensions: 4.50″L x 27.00″W x 9.00″H
5-year warranty
Model# BWF0522E-BU
reviews
Installed it in my shed. i have a bar setup in my shed and my alcohol was evaporating because of the heat. installed this fan and the alcohol levels have been stable. The fan does what it says.
I am using this as an exhaust fan in a vertical window. It actually moves more air than I thought it would for it's size. The best thing is that it is Quiet! I did have to read the instructions to figure out how to get all 3 fans to run without the temperature settings turning it off and on…..i want it to run constantly…..and it did take a little playing with to understand how to work all the settings. But once I took the time to read, the settings all made perfect sense. Again….it is Quiet….just a soft constant hum that I hardly notice unless I think about it. Not disruptive at all. It is working exactly as I hoped it would!
This device performs well and exactly as advertised. The maximum length of the device and extensions included within the box is 3-feet. The temperature sensing thermostat controls for the fan at all speeds of 60F, 65F, 70F, 75F, 80F all work to start and stop the fan at those temperatures, when selected. The single, middle fan operating in "Lo" speed has begun to make a vibration noise, so I use the "Med" setting that utilizes the other two fans and leaves the middle fan inoperable to avoid listening to the noise it has begun making. If not for the middle fan unit noise, I would rate this fan as "Excellent". Because of this almost immediate failure (within 2 weeks), its rating falls for me to "Average". The unit is well worth the less than $40 price tag.
I've had this fan for a couple of weeks now and it works as advertised. The only thing I have to say is that the temperature control is not really accurate but that is not a deal breaker for me.
Good buy, just what I thought it would be
I bought this in store about a year ago, its now so clogged that its sitting in a bag ready for the curb. It won't come apart, I cant clean it despite trying man different tools and techniques. Great when i first got it… now it sucks….or doesn't lol.