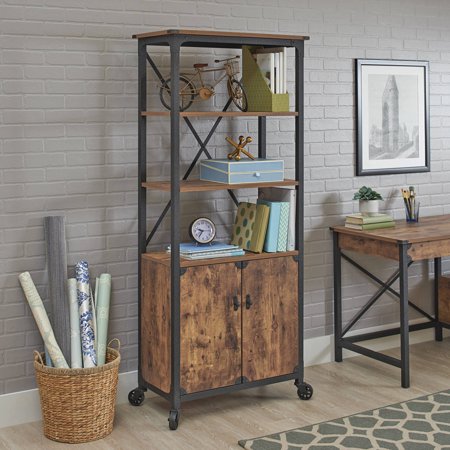 It's just what you might expect — this tall bookcase brings a rustic, country feel with a touch of industrial to your home or home office. A mixed material aesthetic combines textured black powder-coated Metal framing, bent corner accents and fixed wheels with a Weathered Pine finish. This library includes a shelf behind the doors. Make this display bookcase your at-home, country-inspired retreat, any day of the week.
Better Homes and Gardens Rustic Country Library with Doors, Weathered Pine Finish:
Antique Black/Pine Finish
5-shelf library
2 doors provide hidden storage
Engineered Wood with a laminate finish and powder-coated frame and details
Assembly required
Assembled dimensions: 31.69″W x 17.09″D x 69.8″H (80 cm x 43 cm x 177 cm)
reviews
This product is excellent. Wheels don't move though
Love this! The shelves are spacious and tall enough to put a mixer or microwave if used in a kitchen. Quite easy to assemble.
Pros: Looks pretty nice for the price; pretty sturdy construction when assembled; assembly is not super difficult; cool looking Cons: Assembly is time consuming; wheels aren't functional; doors on the cupboard do not close flush, so there is a small gap between the doors; parts for assembly are labeled on the front of the packet they're in, so you have to flip the packet over (and potentially spill out screws, bolts, etc.) to figure out which part you need We had this delivered to our house, and it was a huge box. I'm a petite woman; my husband had to carry the box into the house and the room where we wanted the unit to go. However, I assembled it by myself without any problem. The only hiccups in assembly were when I failed to pay close attention to the directions, and I was able to correct course easily. The wheels aren't functional, but they look cool. The cupboard doors do not close flush up against each other, so don't put your gold and jewels in there unless you want someone with a keen eye to spy them (really, you'd have to be staring at the unit straight-on to see between the cupboard doors). Overall, a great deal for the price. It looks really nice in our house.
I love this set. I have the entertainment center, 3 end tables, and the coffee table. They are all very pretty and are well made. It is particle board, but thicker than most and the finish on them looks very realistic and "rustic country". I did have a heck of a time putting the items together, it wasn't hard, just very time consuming, every little piece needs to be assembled from the wheels to the drawers and all the little L-brackets. The entertainment center took my husband and I 4 hours to assemble. Again, it wasn't hard to do and everything lined up well, you just have a lot of pieces to assemble. This set would be absolutely perfect if the wheels actually swiveled and it could be rolled around – and the shelving was adjustable. I was a little disappointed because my printer wouldn't fit on the entertainment center. But even without these features, it is a very nicely made set of furniture!