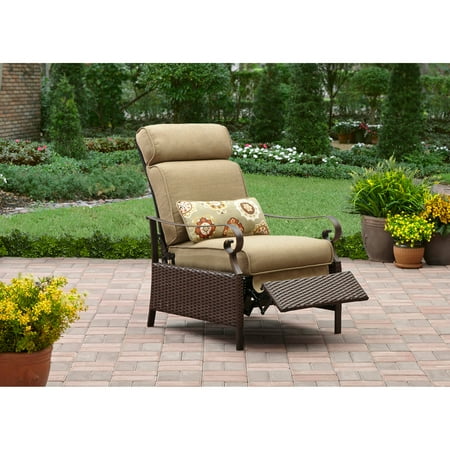 Relax in comfort and style in with the Riverwood Outdoor Recliner. This attractive recliner is right at home on your porch, deck or patio. The sturdy Steel frame is covered in all-weather Wicker. This chair features cushioned reclining comfort and a coordinating printed medallion lumbar pillow. Cushions are made with an Olefin/Polyester blend and are UV-treated and water-, mildew- and stain-resistant. Check out other coordinating Riverwood pieces, sold separately.
Better Homes and Gardens Riverwood Recliner, Tan:
Recliner:

Includes 1 cushioned recliner and a lumbar pillow
All-weather Wicker covers a sturdy Steel frame
Durable, powder-coated, carefree finish
Holds 1 person up to 225 lbs
Clean with mild soap and water
Dimensions 35″L x 27.20"W x 39.37″H

Recliner Cushion:

100 percent Olefin cushion
Fill: Polyester Fiber batting; Polyester Polyurethane
Water-, stain- and mildew-resistant
Treated for UV protection
Clean with solution of 1 tablespoon liquid dish soap in 1 gallon of water; rinse well and air dry; do not use bleach or solvent

Manufacturer's Information:

Recliner will arrive in 1 box
Assembly time: 20-30 minutes
Team lift
Frame: warranted for 1 year from the original purchase date against defects in manufacturing and/or workmanship
NOTE: Steel and wrought iron are not warranted for rust, corrosion or rust staining
Fabric on cushions, slings and umbrellas warranted against separation at the seams for a period of 1 year
Fading, mildew and discoloration due to exposure to elements, chemicals and spills are not covered
Please refer to care and maintenance information for proper cleaning instructions
Site to Store Pickup Note: This item is packaged in 1 large box that may not fit in a standard sized vehicle. Please make sure you have a large car or truck for store pickup
Box dimensions: 31.02"L x 28.02″W x 28.03"H; weight: 64 lbs
Email: customerservice@leisuregardenfurniture.com
Phone: 1-877-877-1235
Hours of business: 9:00 am – 5:00 pm (EST) Monday-Friday
reviews
The recliner is so comfortable and seems to be of high quality! The color is nice and makes a great addition to the back porch. The delivery guy needed a dolly, so be sure you have help lifting the box.
I bought two of these recliners, thought it would take time to put together, took about 1/2 hour to assemble both of them! Very satisfied.
We were very pleased with the chaair. Its comfortable to sit or nap in, easy to operate and the price was excellent…better than Amazon!!
Two screws is all it takes to set up wonderful and comfortable
I go this chair for my husband for Father's Day. We have it on our sun porch and he loves it. Its very nice for the price.
Love these chairs! They are very comfortable and sturdy. Cushions are easy to put on and take off if you don't want to leave them in the rain.
Wow! This came today and I'm already loving it. It has nice, substantial construction and seems to compare with the much more expensive recliners I've seen. It's heavy, and I can't lift it alone. Was a little concerned about the delivery after reading that some had been damaged in transit. Mine was very well packaged with reinforcements that prevented box crushing, so perfect. Also, some reviewers mentioned difficulty in assembling the two (yes, only two!) bolts. It's critically important to make sure you don't tighten either of them until both are in place, and then just a little at a time, switching back and forth until both are tight. It's a little tricky getting both lined up at first, and since I worked alone had to use my head to support the back piece during the work. With two people would be much easier. You have to push the back piece a little toward its center (from the side edge) while you're lining up the holes, and at first it may look like they don't work, but with a little patience mine fit perfectly. I love that this recliner has infinite movement, all the way back to almost flat, instead of just one or two set positions. I'm recommending to my friends and family.
Bought three of these chairs for my back covered patio. The back of chairs where metal is,welded is rusting. They aren't even a year old very disappointed. I wouldn't recommend as they will not last. Now I can't afford to replace them. I'm stuck with these.