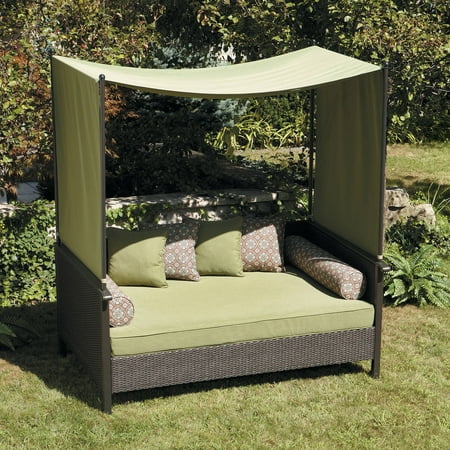 Relax and appreciate the beautiful sunny weather in the comfort of the Better Homes and Gardens Providence Outdoor Day Bed. The Better Homes and Gardens Providence Outdoor Day Bed sturdy steel construction with powder-coated finish, and all weather wicker ensures a fresh appearance. Cushions are UV protected along with four decorative accent toss pillows and two lumbar pillows for added comfort. This green day bed will create a soothing place for you to rest, while enjoying the great outdoors.
Better Homes and Gardens Providence Outdoor Day Bed:
Powder coated steel frame
Wicker 7mm flat cashmere
Steel Day Bed Dimensions: 193 L x 113 W x 175 H cm/76 L x 44.5 W x 69 H in
Cushions and Fabric:
Cushion fabric: Taiwan olinfen
Pillow: Chinese polyester
UV protected
Manufacturer's information:
Model #: FBS68034
To clean use mild solution of soap and water, rinse thoroughly and allow to air dry. Do not use bleach or strong solvents as this will cause damage to both fabric and metal finishes.
Carton Size: 198 L x 116 W x 28 H
Carton Weight: 126.32 lbs
Warranty: One year frame and fabric limited warranty
For customer support, questions, and concerns please contact our customer service number at: (866)-905-4107
reviews
Looks great, added a waterproof mattress cover twin size to keep it fresh. ( Under sized green cover)
This is a very comfortable Cabana bed in fact my daughter just slept outside all night in the bed. Easy to put together and good quality. Like other reviews we did use some larger washers as the ones provided are a little small but overall amazing bed. The fabrics are very nice and the mattress is a good thickness. Very Nice!!!
This is a great piece. It looks wonderful and was easy to put together. However, receiving it was a different story. It took 2 tries and 27 days to get this item. The freight company is a nightmare to schedule a delivery appointment with.
It look my husband and I well over an hour to get this put together but it looks nice and is sturdy. As others have mentioned do lot tighten all Botha until they are all in. The rubber washers are also too small so you may want to buy a bigger size. Overall I am very happy with the purchase.
I purchased this last year and it was mistakenly put together and sat outside for the entire winter…about 12 feet from salt water. After finally getting my backyard patio remodeled with pavers I watered it down and voila….it looks perfect! When you consider all the rain, salt air, etc. it has been exposed to it is a miracle it looks as good as it does…I just unwrapped the pillows and will spend the weekend hunting down the cover, but I wouldn't hesitate to purchase this again. High quality and very comfortable.
I love it! Love being in my deck relaxing. Feels firm and is very comfortable. Can't beat the price.
I looked for a long time for a cost effective way for my family to enjoy relaxing outside together. Most sectional couches were way to high in price and the other individual couches were way too small in size. So we decided to give this day bed a try and we absolutely love it! It is comfortable and well made. My only complaint is that the canopy is not the sturdiest, but we are getting an awning installed so we will actually be taking it off shorty. If you need it for the canopy, just make sure it is not in a super windy area. Otherwise, I would definitely recommend buying this!
I had been searching for an outdoor daybed for a while and when this showed up I was obsessed. It's cheap (compared to other similar daybeds) and for me I needed one that came unassembled as I live in an attached townhouse (all others would not fit through the door). Similar to another reviewer, two holes just did not line up to bolt but were not in a critical place so just skipped them. Maybe they changed the mattress as mine doesn't hold water for more than 24 hours…have had several strong rainstorms and it doesn't take more than one day to dry out in the sun and not have any leftover moisture.
the fabric covering dries fast after a rain but the foam mattress underneath holds water. I'm concerned about mold/mildew. When I sit down on it, even tho it seems dry, my bottom gets wet as the "sponge" underneath gives up its wetness in response to the pressure of sitting. Not fun! Also, it's not the dimensions of a twin bed. It's shorter and wider than that. Rain also pools something fierce in the canopy. Have to scoop it out with a saucepan. Colors are pretty, tho, and it's comfortable to curl up on — when it's dry.
Better Homes and Gardens Providence Outdoor Day Bed: Powder coated steel frameWicker 7mm flat cashmereSteel Day Bed Dimensions: 193 L x 113 W x 175 H cm/76 L x 44.5 W x 69 H inCushions and Fabric: Cus...
Better Homes and Gardens Providence Outdoor Recliner: Wicker: 7mm flat cashmerePowder coated steel frameRecliner supports 1 person up to 250 lbsCushion dimensions: 34"L x 27.6"W x 40"HCushion fabric: ...
Better Homes and Gardens Providence Outdoor Glider Bench: Wicker: 7mm flat cashmere Patio glider bench contains a sturdy powder-coated steel frame Bench supports 2 people up to 450 lbs total Cushion d...