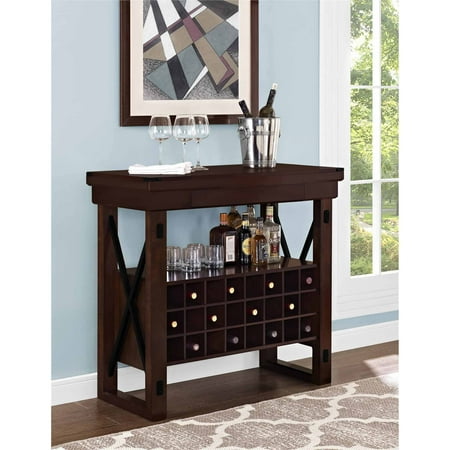 Entertain at home any day of the week with the Better Homes and Gardens Preston Park Bar Cabinet. The dark mahogany finish of the wood veneer and the black metal side frames work together to create a rustic, yet elegant style that is perfect for enjoying happy hour. This mini bar can hold 24 wine bottles and has an open shelf to store glassware, bottles or serving accessories. When guests are over and you need more serving space, simply pull out the extension leaves to expand the unit. This Bar Cabinet comes in handy for so many different occasions, from cocktail parties to happy hour. Preston Park Bar Cabinet requires assembly upon delivery.
Better Homes and Gardens Preston Park Bar Cabinet, Mahogany:
Entertain friends and family from the comforts of your own home
Bar Cabinet includes 24 cubbies for bottles and an open storage space
When more serving space is need, expand the item with the 3 extension leaves
Rustic style gives your room an instant update
Elegant Mahogany finish with black metal accents means you'll be entertaining in style
Real wood veneer construction
Assembly required
Assembled dimensions: 37.05″H x 39.92″W x 19.69″D
Complete your room with additional Better Homes and Gardens Preston Park items (each sold separately)
reviews
When I arrived , I did not imagine the size and weight ; 25 pounds a box. When removing the pieces that were well protected note with a manual to assemble. In my case were missing screws , I inform the site that says the manual, and were very friendly and sent without charge everything I needed . My husband and my son armed themselves with ease in 1 hour. the bar has good finish , considering that is rustic . It has two side tables attached to slide easily , and a central drawer has a capacity of 24 bottles of wine regular size , not fit large and wide . It is very good option small apartments or small spaces . Wood has good texture and color, the finish is smooth to the touch. I like because it combines with my wooden furniture and rustic style.
This piece of furniture is very beautiful when it is all put together. You will definitely need two people to put together it is extremely heavy. Once it arrived I needed help to get it inside the house, I was in no way able to move this box around by myself.  The instructions calculated it was about a hundred pounds in weight, but it feels like a little bit more than that. The instructions were slightly difficult to understand at some steps, but I got it. It was a bit complicated to put it together because of all of the different pieces. After about 45 minutes with help I was able to get it all the way assembled.  The metal accents on this piece give it a very rustic moutain vibe.  I love having the extra pull up sleeves for extra table space, it is very convenient, but without extra support I wouldn't put anything too heavy on the sleeves.  It fit perfectly into my nook and with the pull-out sleeves it adds an extra amount of space. This is a very sturdy piece of furniture.  I don't have anything bad to say about this piece of furniture because it is all around a beautiful, sturdy and functional piece that adds character into the space. I love it!
The Better Homes and Gardens Preston Park Bar Cabinet is an amazing piece of furniture. I am in love with it! It has a gorgeous rustic look that fits perfectly with my home´s decorations and the color is beautiful, the dark oak is the perfect shade for my home. I also love inviting friends and family over and it's the perfect bar for that. It has three extension cabinets that make it ideal for when you need extra space and you need to entertain a big crowd. The 24 cubbies are perfect to store the wine plus it gives it a beautiful touch. It's made of real wood which is something I loved. I'm used to the ikea furniture that's made of a not so sturdy material, this is genuine wood. The only thing I would recommend is to make sure you keep the dimensions in mind. My wife and I didn't really measure anything and just looked at the picture and it ended up being super big for were we wanted to put it, so we switched it up and it ended up looking amazing. If you don't have a lot of space it's not the bar cabinet for you, but if you have space and you love to entertain, I would recommend this a 100%.
This Better Homes and Gardens Preston Park Bar Cabinet is my first bar cart. It can hold up to 24 bottles of wine and it has two more shelves for glasses, other drinks and serve ware in general. I actually put mine in the kitchen and filled the mini bar with wine and water. This piece has a dark oak finish and the sides are black metal framing. The top has a drawer for serving utensils. There are two extension leaves on the top shelf, almost doubling the serving area. So there is a lot of serving space on this cabinet. It is actually a large piece of furniture that is neutral enough to blend in with any decorating scheme. Delivered, it was 125 pounds. It took my husband about 30 minutes to assemble. I am a little concerned with the longevity of the quality of the oak finish. When I pulled out one of the extension leaves, the edge was scratched all the way across. I wonder how the mini bar slots will hold up after bottles are constantly placed in and pulled out of them. Overall, I really like this bar cabinet. Storing water in it makes it functional every day and it will definitely be an asset when hosting parties as well.