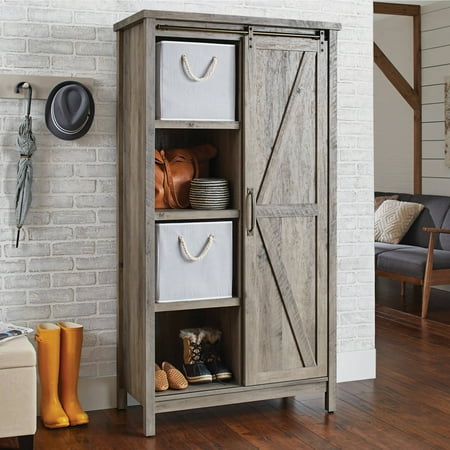 Add some fun and unique style to your home with this storage cabinet from the Better Homes and Gardens Modern Farmhouse collection. Behind the sliding barn door, it features five adjustable shelves for storing books, blankets, towels, board games and more! Display the best, forget the rest just slide the door over! Each shelf is compatible with BH&G 13″ bins and baskets for a little extra organization. Finished in Rustic Gray, this cabinet will make a great addition to any room. 
Better Homes and Gardens Modern Farmhouse Storage Cabinet, Rustic Gray Finish:
Compatible with our BHG 13-inch storage bins and baskets
Sliding barn door
5 adjustable shelves
Assembly Required
1-Year Limited Warranty
For additional questions regarding the product, contact the manufacturer at 1-800-523-3987.
Dimensions: 35.276″ W x 18.031″ D x 66.811″ H
Model# 421191
reviews
Works well. I use one side for extra storage for food and pans
I am a brand ambassador for Better Homes & Gardens Walmart and chose two of these pieces for our master bedroom makeover. We needed more shelf space for our belongings, and I had been brainstorming and searching for an attractive storage solution for months. I really wanted a double, barn door storage unit, and I even considered building one. After looking into costs of various options, I was thrilled to find this modern farmhouse storage cabinet! I followed the enclosed directions to put the storage cabinets together, making a few simple modifications to one of the barn doors. If interested, you can learn more about how I modified the barn door on my blog Home Stories A to Z. The cabinets are very heavy and they do take a long time to put together, but I put both units together by myself so it's doable! Also important to note that they are not constructed of real wood. If you scratch or damage the surface it will not be an easy fix. Overall, they are beautiful, well-designed, and a fantastic value for the price!
This is actually a great piece of furniture. I had some reservations about getting our formal living room pieces from Walmart but I couldn't be happier. This is exactly what we wanted! We were about to spend 1,500 on a very similar piece from Pottery Barn that I didn't even really like! The pieces are super sturdy but I guess some of the costs go into having it already assembled. It took me about 3 hours by myself but I went really slow so I didn't make any mistakes. But easy and thorough instructions. But once I got moving on the instructions it seemed to go a lot faster.
This is a great piece of furniture! The actual cabinet looked exactly as shown in the picture. It's beautiful and very functional.
Lots of space, great for kitchen pantry, guest room wardrobe
Love this cabinet! Love the color and look, doesn't look fake wood like some other ones. Very easy to put together, easy to follow instructions. Everything fit together perfectly. Nice sturdy cabinet. Purchased because I was looking for a cabinet that have me a decorative side and an area for hidden storage. This worked great. Lots of space, love the style!
I bought this replace an old rickety wine rack and a corner shelf. I was worried my kids would knock one or both over. This cabinet looks great and is super sturdy. It did take over 2 hours to put together but the instructions were very detailed and all the pieces were labelled clearly. I love the way this cabinet looks and would love to buy the tv stand to use as a buffet table.
There is a very strong odor and between the two pieces I had four missing shelf pegs.
Better Homes & Gardens Langley Bay 64" Storage Cabinet, Gray/Sonoma Oak: Keep your room clutter free and stylishBoth beautiful and practical2 large and 2 small fixed shelves, as well as 2 reversib...