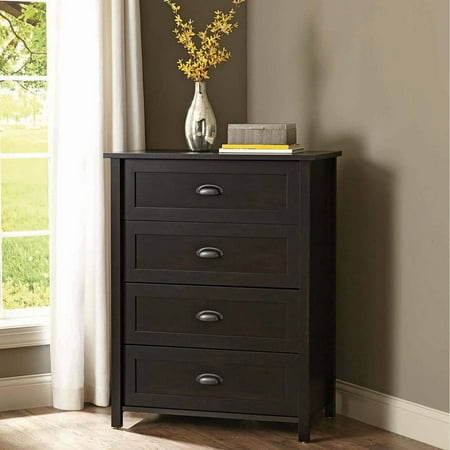 The Better Homes and Gardens Lafayette 4-Drawer Chest is a stylish and affordable piece of furniture that will function in any room of your home. This unit, which is available in multiple finishes, is aesthetically pleasing with its framed panel drawer fronts and dark hardware. Quick and easy assembly makes this product the right choice for you!
Better Homes and Gardens Lafayette 4-Drawer Chest, Multiple Finishes:
4 spacious drawers
Drawers with metal runners and safety stops feature patented T-lock assembly system
Frame and panel drawer fronts
Engineered wood construction
Assembly required
Assembled dimensions: 32.205″W x 18.346″D x 41.417″H (81.8 cm x 46.6 cm x 105.2 cm)
1-year limited warranty
reviews
Reminder this is a laminated dresser. But for the price I was happy with the product and it doesn't look cheap or laminated. Very time consuming! Took awhile to assemble on my own but very sturdy and heavy once complete. I gave 4 stars because I'm not happy with the thin bifold cardboard used to secure the back like on cheap book shelves but all in all it's holding up better than I thought. The drawers do not line up and needed to be readjusted.. but I figured out u only need to hold the track (ur attaching to the drawer) up. The screws should be at the bottom of the opening (I did it at the top first). The hole next to the wheel is smaller so no need for adjusting that one. Very simple fix! Happy with the product and well worth the assembly time.
There are a lot of pieces and it sometimes took two of us, but we got it together. Top drawer doesn't close easily but we can adjust later. Very pretty. Overall I'm happy
Beautiful and sturdy, but mine came with lots of scratches and dings in front! Not so pleasant aesthetically. Dont know if it came that way or damaged in shipping….Will still recommend it, as you might get a better piece than I did.
This furniture shipped in a flat box, and went together pretty easily. The quality of the wood and other products was about average; not too high end, but also better quality than some I have assembled previously. The fit of the drawers had to be done by trial and error, as the drawer slides had oblong holes for adjustments. That meant the drawers did not all sit at the same angle in relationship to the front of the cabinet upon the first try. That adjustment took a bit of patience and effort. Overall, I would rate the ease of assembly and the character of the instructions as "above average", but the overall finished product would be rated as "average".
Easy to assemble but it did take all day good Best feature-drawers don't fall out when you open all the way
This dresser exceeded my expectations. Very sturdy, easy to assemble & looks great.
I purchased this item online and when I opened the box the first 2 pieces of Wood if that's what you want to call it both had cracks in it. Needless to say I had to return it to Walmart and I will not be buying it again.