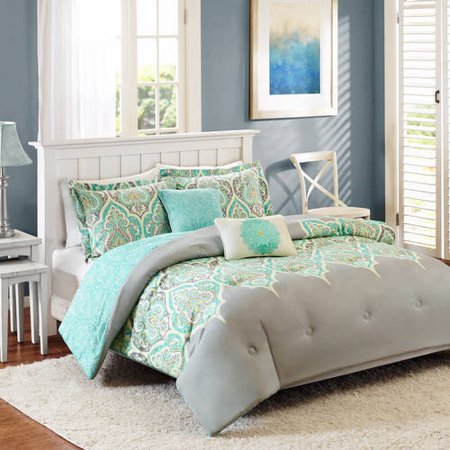 Revamp your bedroom with the soft and trendy palette of this Better Homes and Gardens Kashmir comforter set. The bedding, which features a global ogee design, is available in full/queen and king sizes and is made of polyester. All sizes of the Kashmir bedding comforter set include a comforter, two shams and two decorative pillows. The king set's shams are slightly larger than the smaller-sized set's shams. The combination of vibrant colors against the solid neutral background enhance's the chic design in a way that transforms your bedroom into a serene sanctuary. This Better Homes and Gardens comforter set pops with its spring colors.
Better Homes and Gardens Kashmir 5-Piece Bedding Comforter Set:
Full/Queen set includes: comforter (90″ x 94″), 2 standard shams (20″ x 26″) and 2 decorative pillows (17″ x 17″/12″ x 18″)
King set includes: comforter (106″ x 94″), 2 king shams (20″ x 36″) and 2 decorative pillows (17″ x 17″/12″ x 18″)li>Print face and reverse
Kashmir bedding comforter set with global ogee design
Fabric content: polyester
Fill content: 200 gsm poly filling
Care instructions for the 5-piece comforter set: machine washable
reviews
I have had this bedspread for about 14 months now! Love it! I looked everywhere for something with this color scheme. Was super excited to find this one with the paisley print. I have washed once a month for the last 14 months, and it still looks spectacular! Love the pillows. Very soft!
I bought this comforter for a guestroom of mine and for the price I paid I was pleasantly surprised. I did not realize however that it did not come with a bedskirt. Fortunately for me I had one that was close enough in color so it worked out . Its very lightweight and soft and the colors are vivid.
I was very pleased with this bedding purchase. Great value and shipping to my local WM was very fast! Comforter is really soft, medium weight. The colors are very vibrant and it really brightens up a dark bedroom. I have a full bed and ordered the full/queen size. It is plenty long enough on both sides and would also work well for a queen. I used a burgundy bed skirt that I already had and it looks great. Very happy!
I love that this set can be reversed! It's beautiful!!
I have been looking for a bedroom comforter set for forever..couldn't find anything I really liked with the right colors, patterns etc. this set is exactly what I was looking for!! It's beautiful, soft material. Great buy!
It's nice and comfy I love it! My only problem is for $51.00 it didn't come with a flat or fitted sheet, but luckily I found some that matched perfectly at Walmart for a good price..
Me and my friend both wanted this but I got it first and we're both in love with it….. Very cool tropical like……
I honestly love this bedspread. I looked forever at Macy's, kohls, Dillard's. I love the higher end comforters but living in Florida they tend to be too thick and HOT. This is perfect. Super soft, I've had it about 6 months of so and it looks brand new still. And, it comes with a couple great throw pillows. Pillows you would pay $8-12 a piece for at Target or Kirklands.
The color pictured in this bedding is not a true gray. It is a warm beige gray. I returned it because it didn't match the gray I was looking for. It was a nice set though.
This is a nice soft comforter and I like the colors even though it looked like a shade of grey and is really more a dark muted lavender. Still it works nicely in my room. I purchased a king-size and although it doesn't have a real long drape it works ok. My only complaint is some of the quilting threads are coming undone and have only had it on my bed for 5 days.
I was extremely disappointed in this product. I was excited to purchase this set, and followed the care instructions to the letter. However, when I put the comforter on the bed, I discovered a huge tear. Now I'm stuck with a brand new, torn comforter. I expected better from such a popular brand, but this proves you get what you pay for.