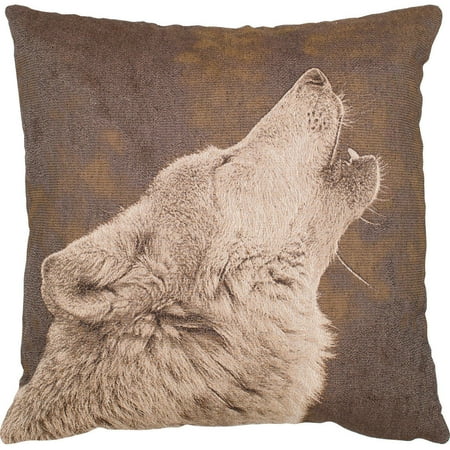 Add unique style to your home or office with this Better Homes and Gardens Howling Wolf Decorative Pillow. It features a real photo tapestry while displaying the picture on the front and the back. This square pillow makes an ideal conversation piece and will charm your guests. It can be spot cleaned for easy care and maintenance. Whichever room you choose to use it in, this Better Homes and Gardens pillow makes seating more comfortable and looks fantastic.
Better Homes and Gardens Howling Wolf Decorative Pillow:
Size: 18″ x 18″ (45.72 cm x 45.72 cm)
Real photo tapestry
Picture on front and back
Spot clean only
Square pillow helps make seating more comfortable
reviews
Love these pillows. Needed something this shade to go with my furniture. They are thick and fluffy, actually too fluffy for my purposes, so I set something heavy on them for a couple of days to get some of the air out of the stuffing. They are perfect now. The material is thick and good quality. They should last forever.
it is really fluffly and i like it
My husband is a wolf fan so of course I had to get this pillow. The sepia tones in it go well with our tan and chocolate furniture. Have had it close to a year and it still looks great. My sister wants one now. Also the price has dropped since I ordered it. If you like wolves, go for it.
This was a gift for my grandson as he loves wolves. It was even nicer than in the picture and m grandson sleeps with it every night.
Lovely quality and very nice print. Substantial stuffing will not go flat. Very happy with purchase. Looks great in my game room.
Image looks live! Material is soft but durable, and in neutral shades of gray (wolf) and brown (background). It will blend with many fabrics. Stuffing is just right to be comfy for 18×18″ size. I am totally pleased, and probably will get another one.