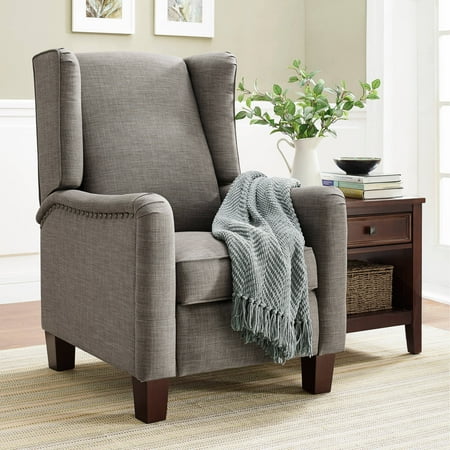 The Better Homes and Gardens Grayson Wingback Pushback Recliner is sure to win you over with its classic look and its ultra-comfortable qualities. This recliner uses an elegantly traditional wingback design and modernizes it with individually set nail heads, a soft linen-look fabric and espresso finished solid Wood feet. The pushback mechanism allows you to lean back into two different positions and locks into place without the inconvenience of a lever. The Foam-filled spring core seat and the padded arms and footrest lets you rest comfortably while reading, entertaining guests or watching television. Choose amongst a number of coordinating Grayson bedroom and living room furniture items to customize the look that best suits your home.
Better Homes and Gardens Grayson Wingback Pushback Recliner:
Upholstered wingback pushback recliner
Convenient pushback reclining mechanism featuring 2 reclining positions
Complementing antique colored nailhead trim
Durable gray linen-look fabric
Espresso finished solid wood feet
Can be combined with other Grayson Bedroom and Living Room Collection pieces
Minimal assembly required
Limited 1-year warranty
Assembled dimensions: 29.25″W x 35.25″D x 42.5″H
Seat height: 19.25″
Seat dimensions: 19.25″W x 21.5″D
reviews
I absolutely love this recliner!! In fact, we originally only bought one. We loved it so much that we bought a 2nd one!! They were super easy to put together as well.
It's a comfortable recliner. Beautiful, fashion, not big and ordinary as the regular ones. It looks like the picture. My husband wanted a recliner but I did not because usually they are so ordinary, but this one is the perfect one for couples like us that can agree in the same taste. Super easy to assemble, color is beautiful and the fabric too. I wish it would come in other colors. But grey was perfect for us.
Bought this chair because it looked nice and was a darker color for my husband who likes to come in from his shop (Dirty clothes) and sit to take a break. I have cream couches and I found he was spending more time outside once we converted to the cream furniture… duh… should have occurred to me but unfortunately it didn't. Bought the chair online (terrified of not knowing if it was comfortable and how it would fit in my space) on a whim after not being able to find a chair in person at the furniture store in my area that fit and had the right look. He LOVES it. It's dark enough to handle the everyday dust he brings in and fits in my smaller space perfectly. The true beauty of it all is that it looks elegant and goes with my decor. Now, I'm off to make him a pillow that says "Your in my chair" on it. :)))
This chair looks great and is easy to recline and sit in–if you are 5 foot 7 and under. My husband is 6 foot 1 and when he reclines the footrest is at the bend of his knee. If it had the added footrest that many recliners have it wouldn't be such an issue. We haven't decided to keep it or not.
I'm very happy with this purchase. I bought 2 of them to replace the very uncomfortable Tully leather recliners I originally purchased in July from Walmart. The new recliners were mostly easy to assemble except for the wing backs. It me several attempts to insert the bracket of wing back to the bracket in the chair. They have 2 reclining stages. I need to be very careful if I just want to raise the foot rest. If I push back too hard it quickly reclines way back and it can be disconcerting when you don't expect it. The chair is narrow which is good for small spaces and ok for someone short to curl up in. However, my husband who is 5'10" is comfortable sitting in the chair and redlining back.
I'm glad I found this chair on Walmart's site. It's perfect in my room, looks great, and is well made and sturdy. A great addition to my home office!
We purchased these to go in our formal living room thinking they were more of a grey tint. They are very taupe/tan. No idea how sturdy they are/quality as we did not get them out of the box. This review is solely based on the color expectation.
Better Homes and Gardens Grayson Wingback Pushback Recliner: Upholstered wingback pushback reclinerConvenient pushback reclining mechanism featuring 2 reclining positionsComplementing antique colored ...
Better Homes and Gardens Pushback Recliner, Cognac: Traditional styleMulti-position push-back mechanismSeat height: 18"H (46 cm) Seat width: 19.5"W (50 cm) Seat depth: 21.5"D (55 cm) Upholstered in a ...