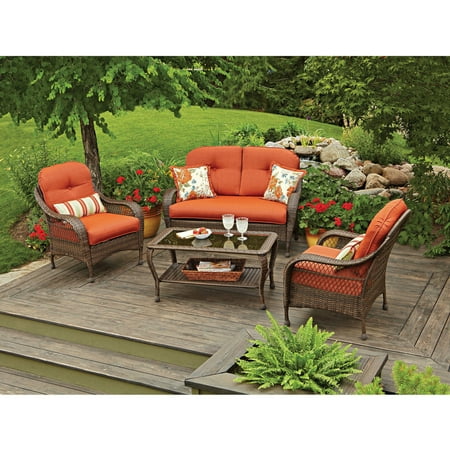 The Better Homes and Gardens 4-Piece Patio Conversation Set is the ideal accent for your patio and lawn decor. This set is made with all-weather wicker and is hand woven in a gorgeous reddish/brown color that naturally complements the landscape of your yard. Enjoy hours of comfort while sipping a favorite beverage with family and friends and lounging in this Azalea Ridge 4-Piece Conversation Set, Seats 4. Made with a heavy-duty steel frame, the set includes a table, loveseat, two conversation chairs and fabric-covered cushions. The fabric is UV-treated to prevent fading due to exposure to the sun, and it is also water repellent and mildew and stain resistant. This Better Homes and Gardens Conversation Set adds a splash of color to your deck or patio.
Better Homes and Gardens Azalea Ridge 4-Piece Patio Conversation Set, Seats 4:
Table:
All-weather wicker table is hand woven
Weave color is reddish/brown
Heavy duty steel frame
Tempered glass
Dimensions: 40.16″L x 23.75″W x 19.75″H
Loveseat:
Steel frame
Dimensions: 35.75″H, seat depth 23″
Supports up to 400 lbs
Chairs:
Steel frame
2 conversation chairs included
Hand crafted with all-weather wicker in same weave color as the table
Dimensions: 35.75″H, seat depth 23″
Each chair supports up to 225 lbs
Fabric and cushions:
Mildew- and stain-resistant
Water-repellent
UV-treated
Olefin cushions and polyester pillows
Cushions and pillows included
Manufacturer's information:
Easy to assemble
Tools provided
1-year frame and fabric warranty
Customer Service email: customerservice@leisuregardenfurniture.com
Customer Service phone: 1-877-877-1235
Hours of business: 9:00 am – 5:00 pm (EST) Monday-Friday
reviews
I really love this patio set. I do wish I had purchased the protection plan because after 2 years the material is starting to rot in the sun. We do put it in the garage during the winter months when it's not being used but the sun is brutal and it's also beginning to fade. It looks great for a small backyard setting. I just wish I could buy replacement cushions. I guess nothing last forever.
I purchases azalea ridge patio set last ju e and love the style of it, but the cushions already are so flat and uncomfortable that it is awful to sit on them. I have tried to buy new pillows for them but have no luck. This to me was a waste of money especially when the furniture is kept on an enclosed patio and never outside. Should have lasted longer. To get pillows made is way to expensive .
This is an absolutely beautiful set and we are really enjoying it after purchasing it in 2016. This set is recommended for inside use (for the customers stating theirs are falling apart). The only down side to this set is that there aren't any replacement cushions offered so you will need to purchase a new set just to get the cushions…. how crazy is that? We purchased out at the end of the season last year so we got a great deal on it…. I gave it 4 stars for the price and the beauty of it.
I bought this set summer of last year and although I don't have a covered deck, I made sure that I put in away when it rained and throughout the winter, even though it is all weather. This spring, I noticed that one of the cushions is ripping off and most of them are faded. I am very disappointed of this set which was lovely when I first bought it but less than a year, it looks so old.
Love the color and the quality. Not to bad putting it together. My take some patience.
I wanted new sunroom furniture to replace my log furniture with big comfy cushions. I was skeptical about the comfort of the Azalea Ridge set but my cats had whittled away at the wood furniture and picked the cushion covers to shreds. While it is not as comfy as the other furniture, we are really pleased with it. The cushion covers do not pick like regular upholstery and the resin wicker doesn't budge from cat claws. The cats have already coughed up a hair ball but the mess wiped right up with a little Dawn and water. It is comfortable but not like regular indoor furniture. That's okay with us and the cats love it too! The set was easy to put together. I read a lot about holes not lining up. My husband and I put the loveseat and table together during our lunch and I put the two chairs together after work. Took us a total of 2 hours As long as you don't tighten the screws until you get them all started…it goes pretty easy. Some of the screw threads were a little hard to get started but it all worked out pretty simple. Hopefully it will continue to stand up under the pressure of our playful pets!
Loved the look and feel of this furniture so much we went back and ordered the sofa. Unfortunately, after a Summer in the San Diego sun, the fabric turned so brittle that it actually turned to dust when touched!!! So disappointing.