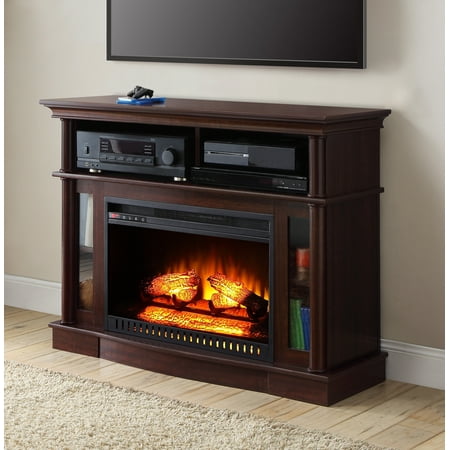 Add style and cozy warmth to a room with this Better Homes and Gardens Media Electric Fireplace. It offers and ideal solution for your TV and audio/video equipment. This electric fireplace entertainment center is designed for TVs up to 45″ and up to 100lbs in weight. It will heat up to 400 square feet at 4,600 BTUs per hour. The fireplace has four flame level settings and the flame can also be turned off. It also features a 20-degree temperature control for adjusting the heat level and a sleep timer so you can set it to turn off automatically. The included remote control allows you to conveniently change the settings from anywhere in the room. The two side compartments can be used to store media items like CDs and games. The two open shelves are ideal for housing a cable box, DVD player, game console or other items.
Media Fireplace, Brown:
Fits most flat panel TVs up to 45″ and up to 100 lbs
Fireplace heats up to 400 sq ft
4,600 BTUs per hour
1400W
20-degree temperature control with sleep timer
4 flame level settings including no flame
Remote control and media compartments
1-year warranty
Dimensions: 44″L x 15″W x 32.5″H
Model# BH53-084-899-02
Televisions sold separately. See all televisions.
reviews
Looks expensive and works great! Did take a few hours to put together but steps are very clear!
great value for the money , absolutely gorgeous birthday girl was very happy with it
It was hard at first to put it together but in the end it came out great. Just wish the heater would actually heat up the room but overall I love it.
Very happy with my purchase took me 2 hour to build by my self at 6 month prengnant!!
This was a really nice piece. It really good. It looks better than some similar but much more expensive items. The price was good. It arrived early, and was easy to assemble .
I absolutely "LOVE" this unit! Well, worth the money! Takes a few hours to put together, but it is "exactly" what I wanted. Heats my den and kitchen area as promised and it's so cozy with the real look of a soothing fireplace! Has remote, thermostat, 4 flame settings and you can have the "look" of a fireplace in the spring/summer, if you'd like to just have it seemingly burning…without the heat! WONDERFUL PURCHASE!
I was very pleased with the quality of the fireplace/tv stand. It looks like three times the price I paid for it. The directions were very easy to follow.. It took about four hours to put together with help from two friends. I am so happy I ordered this and receive glowing compliments when people come over and see it. The ambience it gives in my small living room is very comforting and beautiful.

It wasnt hard to assemble and it looks great in my dining room area…..

I swear I have been wanting this fireplace for months!!!! when it finally ARRIVED I couldn't believe my eyes thank you so much Walmart
If I could give more then 5 stars I would. This product not only met but exceeded my expectations. To start I am a 62 yr old female and can't say I am overly skilled in woodworking. The item comes unassembled in 1 large box and I had concern over getting it into my house. The fed ex driver carried it into my house for me which was a huge relief. I did lay a painting tarp down first which I was glad I did so that I didn't get styrofoam pieces on the carpeting. Opening the box I found the packaging to be great. There were 2 empty boxes to prevent the other 2 from moving around so it was a nice tight fit. The boxes with items in were side to side styrofoam with each piece of wood also being wrapped in styrofoam sheets. Not one piece of wood had any scratches or dings which was another relief. All wood pieces have a sticker with an alphabet letter and each different type of hardware is in its own bag with a number. They also give 1 extra of every screw or fastener as a spare with the exception of the hinges you only get what is needed. The directions are very easy to follow with wording directions as well as pictures with arrows. It even tells you for each piece you are assembling which bag # the screws will be from and how many are needed for that particular piece. Every hole lined up perfectly and I was able to use a phillips screwdriver without any issues. I did use a screwdriver with a ratchet handle to make it a little easier on my hand as there are a lot of screws to put in. The only thing I did run out of toward the end of the project was the glue which is no big deal. You use it to glue 35 dowels in and the directions say to make sure you put glue in the holes for both ends so thats 70 times. However I had wood glue that I used and you can also use just plain Elmers if needed. The fireplace is all together and you just need to slide it in place through the back opening. I did set it on a towel to slide it in so I wouldn't scratch the bottom of the unit and it worked perfectly. The doors open on the sides by a push magnet and there are different heights you can adjust the shelves to. Each side has 1 adjustable shelf or as I did, I put the 2 shelves on 1 side and left the other to its full height. Since whatever you have on the shelves shows through the glass in the front of the stand, I am using the space for small decorations there rather then dvd holders so I can't say how well it would look with movie cases showing. The stand is nice and sturdy and turned out to be a beautiful piece of furniture at a good price and I couldn't be happier with it.
I researched several electric fireplaces, and am very pleased that I chose this one. It is very attractive, well-made, and keeps the living room nice and cozy! I especially love the book storage, and the fact that I can put framed photos on the shelf as well as on top. My only complaint is that this came WITHOUT assembly instructions! My husband called the manufacturer, and was able to get them to email the needed instructions. Other than that, which wasn't the fault of Walmart, we are very happy with this purchase.
This is a cheap fireplace that looks OK, but does not last. The electronics for the heater burned up after only 3 months of occasional use. There does not appear to be any parts or service available for it, so as soon as it breaks you are stuck with a very heavy TV stand to get rid of somehow. I regret purchasing this. Don't waste your money as I have.
Media Fireplace, Brown: Fits most flat panel TVs up to 45" and up to 100 lbsFireplace heats up to 400 sq ft4,600 BTUs per hour1400W20-degree temperature control with sleep timer4 flame level settings ...