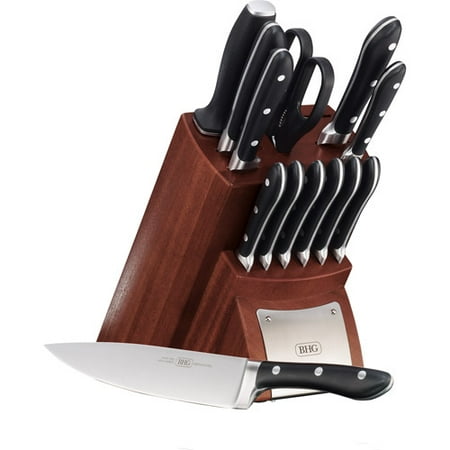 The Better Homes and Gardens 14-Piece Forged Cutlery Block Set is the ultimate kitchen companion, as the wide range of knives covers most cutlery needs within the kitchen. Better Homes and Gardens 14-Piece Forged Cutlery Block Set:
1-Pc. 4″ Chef's Paring Knife: All-purpose knife for peeling fruits and vegetables or paring, slicing, dicing and chopping smaller foods
6-Pc. 5″ Steak Knives: Commonly used at the table for dining
1-Pc. 6″ Utility Knife: Multi-purpose knife appropriate for many kitchen tasks
1-Pc. 7″ Santoku Knife: Ideal for chopping, dicing and slicing
1-Pc. 8″ Chef's Knife: Commonly used for cleaning, mincing and chopping
1-Pc. 8″ Slicer: Delivers perfect and even slices of poultry, beef or ham
1-Pc. Sharpening Steel: Used to hone the knife edges
1-Pc. Kitchen Shears: Great for snipping herbs and other kitchen tasks
1-Pc. 13-Slot hardwood counter block: Provides safe and attractive storage for items within the Forged Cutlery Set
Stain-free, high-carbon German steel for superior cutting performance
Ice-hardened and fully tapered blades provide unrivaled strength and durability
Full-tang, forged construction delivers exceptional balance
Contoured polycarbonate handles deliver a firm and comfortable grip
Dishwasher-safe. However, to preserve the beauty and cutting performance of the Kitchen Knives Set, hand washing is recommended.
Lifetime Warranty
Forged Cutlery Set model number: 80008/533
reviews
Let me stat by saying I had bought a Chef's knife a while ago and was so happy with it that after 2 years I decided to go with the whole set and I cant be more happy. The only thing I wish this set included was a bread knife but other then that I am satisfied customer the knifes are so sharp that they slice through fresh carrots like butter.
Sharp and looks really good.
This easy to store set is better than expected. The reasonable cost makes them a great choice for daily use.
I was hoping, when I ordered this set, that it would meet my expectations and I was pleasantly surprised that it surpassed my expectations. One thing I would have done different with this set and that's to not make the steak knives so needle point sharp, maybe just a tiny bit rounded on the tip. Be careful inserting the knives back in the block as you might stab the wood block and ruin it. I insert them all back real slow. These knives are extremely razor sharp so be real careful there too.
The knife set is exceptionally nice and I am extremely happy with it and would recommend it to others. The only drawback is that the set doesn't come with a four inch paring knife as listed. Instead it comes with an additional five inch steak knife in it's place. However knowing that I would still recommend the knives to others. Better Homes and Gardens should do something to address that situation.
This is a very nice set of knives, especially for the price. Knives seem well made and are quite sharp. The block is also a nice color. Very pleased with my purchase.
Really great set of knives. Only down side is if you have a clumbsy moment.Cause U gonna bleed these things R sharp.
I lucked out and got the last set at a local store at a great price. They are nicely weighted. Very sharp out of the box. I sliced vegetables with ease and without much energy. The knives are so sharp they do much of the work without much elbow grease. They have a very 'luxe' presentation. As the video says, the knives really do have a nice feel in your hand. I did homework and found out that high-carbon steel is indeed strong so they require a little 'umph' to sharpen them- but when they're sharp, they're sharp. Definitely worth the money so far.