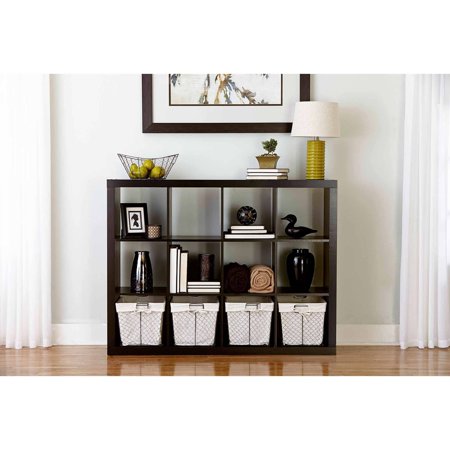 Bring style and functionality to a room with the Better Homes and Gardens 12-Cube Organizer. It has a versatile design that allows you to set it up vertically or horizontally. Additionally, you can add storage baskets to some of the open compartments to create spaces with concealed contents for a neat and organized appearance. This large cube storage unit is available in multiple colors, accommodating a wide range of decors.
12-Cube Organizer, Multiple Colors:
Versatile
Creates multiple storage solutions
Horizontal or vertical display
Dimensions: 58.39″L x 15.35″W x 44.57″H
Horizontal cube organizer is suitable for use with storage bins and baskets up to 13″H x 13″W (sold separately)
Available colors: espresso, birch, white, solid black and weathered
reviews
This item is easy to put together by yourself. The only problem I had is the item is so large (and smooth/slippery) that I wasn't able to stand it up on my own. But it looks nice and is sturdy – unlike some other less expensive shelves.
My daughter is using this instead of a dresser. It is heavier and sturdier than many we have seen. Careful it will dent if you aren't careful. If you are having it delivered do not believe the delivery date shown at check out. I chose value shipping based on that and it was 8 days later than originally shown.
I have two of the 8 cube organizers, this is my first 12 cube. Just has easy to put together as the others. You do need to pay attention to make sure both of your inner supports are facing the same way or you will be able to see the connection bolts. Looks great in my living area.
Not hard to put together. Nice & Sturdy You don't need two people, but having a second person does help. I needed my husband's strength to twist the screws in. We will be using this for the baby's clothes, diapers, socks, recieving blankets etc. I would say this item took about 45 minutes from looking at the directions to completion. Directions were plain and simple. I purchased the Better Homes collapsible cubes, and though exspensive they are really sturdy and they look great!!
Arrived on time, assembly went smoothly and quickly once we figured it out and got into a rhythm. Getting that last piece in place is a doozie! 🙂 Unit is sturdy, spacious, gorgeous- and holds our new 50in TV beautifully. NOTE – unit arrived with a small ding in the finish, right out the box. It is noticeable, but small (maybe slightly larger than a pencil eraser). Luckily, that side is against the wall. Overall good buy.
I love the versatility of this! It not only holds a lot more than it looks like but I can mix and match the bins to match the room it's in. Plus, I have it in my living room with the T.V. on it acting like an entertainment center/ storage. Great item!
I've spent the last 3 miserable hours trying to put this thing together. The boards must be warped or something. I followed the directions exactly, but on the final step, the boards won't fit together. I've put together lots of furniture and this has been by far the most frustrating. I still don't have a useable piece of furniture.