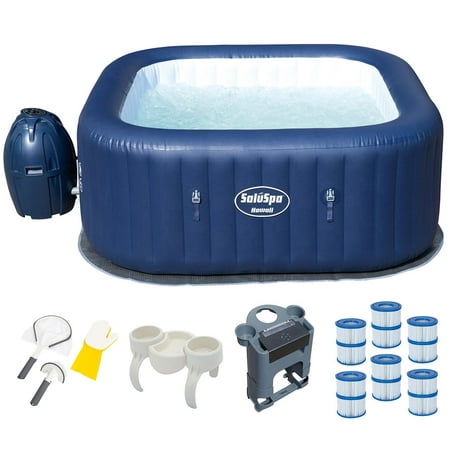 This package includes a 6-person inflatable hot tub, drink tray, Bluetooth-compatible entertainment center, 6 cartridge filters, and a cleaning tool set.
Long day at the office? Relax in the Bestway SaluSpa Hawaii AirJet Hot Tub. It's everything you love about hot tubs, but portable and affordable.
The hot tub inflates in minutes and the rapid heating system quickly heats the water up to 104 degrees. The hot temperature combined with the AirJet massage system is perfect for soothing sore muscles or lounging after a long day. The digital control panel lets you adjust the temperature to find your perfect fit.
The inflatable walls are made of 3-ply material for durability and ultimate comfort. This package also includes a chemical floater to keep your spa clean and an inflatable cover to keep it warm.
The Bestway Lay-Z-Spa Drinks Holder and Tray is compatible with all Lay-Z-Spas except for the Monaco model. It features 2 drink holders and a tray that perfectly hold your favorite libations, snacks, sunglasses, and other trinkets while you indulge in relaxation. The tray easily rests on the top of the side wall and the drink holders can be separated from the tray.
The Bestway SaluSpa Inflatable Hot Tub Bluetooth Entertainment Center is compatible with SaluSpa hot tub spas and latches on so you have better access to your electronic devices and belongings. It also comes with a music player and Bluetooth, so calls or music are at your fingertips (without needing your hands.) Don't worry about getting your electronics wet, or about spilling your drink, because this station includes 2 cup holders too.
Give your Coleman Lay-Z Spa its best performance by using these genuine Lay-Z Spa Filter Cartridges Type – VI. Filter the water in your spa to keep it attractive and refreshing all season.
It is recommended that you change the filter regularly in order to keep your water at its very cleanest.
The 3-piece Bestway Spa Cleaning Kit includes a net scoop, brush, and scrubbing mitt.
By cleaning your spa just 15-30 minutes each month will help extend its life. Simply use the net to clean out any floating dirt or debris, the brush to clean build-up at or below the water line, and the scrubbing mitt to clean at the water line.
Relax at the touch of a button with the soothing AirJet Spa
Digitally controlled pump with soft-touch control panel
Pre-tested pump and pre-tested hot tub
Can seat 4-6 adults
TriTech 3-ply inflated walls for durability and comfort
Chemical floater included
Easy setup
Cushioned floor with convenient quick-drain valve
Leatheroid pool cover with double safety lock clips and built-in air chamber for insulation
Inflates using the included spa pump
Water capacity (80%): 222 gallons
Max heat: 104 degrees Fahrenheit
Not recommended for use in freezing temperatures
Includes: pool liner, pool cover, spa pump, chemical floater, pressure gauge, 2 filter cartridges (VI), air pad protector, and repair kit
Dimensions (Inflated): 71 x 71 x 28 inches
Part number: 54155E-BW
Warranty (pump): 1-year warranty
Warranty (liner): 90-day warranty
Compatible with all Lay-Z-Spas except Monaco
Includes 2 drink holders and 1 tray
Anchor it anywhere on the top side wall
Can be separated into 2 sections
Always have a drink or snack in hand while you relax
Part number: 58416-BW
This entertainment center fits on your SaluSpa, giving you great access to your devices and belongings
Hands-on or hands-free access with Bluetooth
Play music or talk on your phone without worrying about your devices getting wet
Includes 2 cup holders so refreshment is always within reach
Also includes extra storage for your phone and small belongings
Built-in, rechargeable LiPo battery
Can supply power to Bestway LED strips
Dimensions: 19.3 x 14.4 x 14.8 inches
Weight: 8.7 pounds
Part number: 58435-BW
Filter cartridge type – VI
Replacement cartridge for the Coleman inflatable spas (models 54131E and 13804)
Also compatible for Bestway Lay-Z Spa models:
Vegas, Miami, and Monaco
Contains 2 filter cartridges
Easy to clean
Part number: 90352-BW
Quantity: 6
Warranty: 60-day warranty
All-in-One cleaning kit includes a scoop, brush, and scrubbing mitt for your spa cleaning needs
Designed with your Lay-Z and SaluSpa in mind
Net scoop
Round shaped design to fit your spa's interior
Deep net to collect floating dirt and debris
Bumper protects spa surface
Handheld or connects to standard telescopic pole for those hard to reach areas
Brush
Bumper and nylon bristles protect the spas surface
Scrubbing mitt
Scrub along spa water line
Latex glove bonded with scrubber pad
Part number: 58421-BW
reviews
I bought one and had problems out of the gate. Liner had a pin hole in it that I patched per the instructions. Unfortunately it did not hold. I contacted Walmart and they responded instantly. I had to hop through VMInnovations, who also responded immediately and passed me off to Bestway. I'll admit, I was a little skeptical, but to my suprise, the replacement warranty was immediate. Walmart could have not been more helpful and responsive, to the point of offering an immediate refund if I wasn't satisfied. So, other than the liner issue at first, this is an exceptional product. Sets up easy, it performs beyond as described and is pure enjoyment. I was worried about the heater being able to keep up, but it has out performed my expectations. I keep it at about 85 and circulating, unless I am going to use it and then reset to 104 about 2 hours before use and it is hot and stays hot. I have zero complaints and the floating multicolor pool light available at Walmart makes for an enjoyable evening or night on the deck. You will enjoy this product.