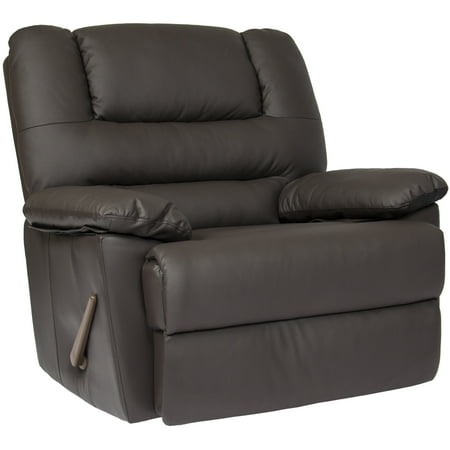 Best Choice Products presents this deluxe recliner. Delight in the comfort of a traditional recliner with rich and classic design. This deluxe recliner is constructed of padded leather upholstery for a rich and classic addition to your home. Thick and padded cushions provides maximum comfort and support while resting or watching television. Stretch your legs on the pop up foot rest by releasing the wood-constructed level handle. The durable and strong frame supports weight up to 450 lbs. For added comfort and style to your current living area, purchase this deluxe recliner today!FEATURES:
Two-position recliner adds comfort and style to any living area
Deluxe recliner is constructed of padded leather upholstery and a steel interior frame
Thick and padded cushions provides maximum comfort and support while lounging
Easily recline the chair and stretch your legs on the built-in foot rest by releasing the wooden lever
Dimensions: 36- 55 (L) x 39(W) x 37(H); Weight capacity: 450 lbs.SPECIFICATIONS:
Dimensions: 36- 55 (L) x 39(W) x 37(H)
Seat: 21(L) x 20(W) x 18(floor to seat H)
Armrests: 21(L) x 10(W)
Recliner weight: 81 lbs.
Weight capacity: 450 lbs.
Material: PU Leather
Frame material: Steel
Seat color: Brown
Base color: Dark Brown
Some assembly required (instructions included)
reviews
the recliner I bought was wonderful! I was looking for a recliner with a lever on the side to pull to recline. Not many come that way anymore. Not only does it have a lever, it is so comfortable to sit in! I love it!! AND it was on sale, a win win for me!!
Worth every penny, so comfortable.
Was easy to set up and very comfortable
I am a disabled woman with a lot of back and leg problems. This chair has all the support needed to relieve the pressure in my back. I am short – 5'1″ to be exact. But my husband also has problems in his lumbar area and is 5'6″ and also gets relief in the chair. I have dogs and so far, no problems with the exterior from them. We love this chair! It is priced reasonably. I rarely give out a 5 star to anything but this chair has earned it.
I HAVE BEEN LOOKING FOR A NICE RECLINER, GOT THIS CHAIR ,AND RECEIVED IT EARLIER THAN IT WAS SUPPOSE TO COME. THE ONLY THING THAT THIS CHAIR LACKS, IS WHEN YOU PUT THE CHAIR IN RECLINE AS FAR BACK AS IT WILL GO , IT WILL NOT STAY THERE. IT DOES NOT LOCK INTO RECLINE, AND UNLESS I PUT MY LEGS OVER TO ONE SIDE, IT KEEPS ROCKING TO THE FLOOR IN FRONT. I WISH THEY WOULD EXPLAIN THIS IN THE ADVERTISEMENT. OTHER THAN THIS T IS A NICE CHIR FOR THE MONEY.
This recliner is very nice actually. I was very surprised considering what I paid for it. It is a ROCKER, which I wasn't expecting. That was not mentioned in the recliners description. I do wish the back of it was higher, but it's OK for me. I'm 5'11" and the top of the back is just high enough to support my neck. It opens and closes easily, which is more than I expected and it stretches out well enough for my long legs. The arm padding zips on with heavy duty zippers which leaves a little strip of PU Leather from the padding that hangs out on the side of the chair. That's no big deal for me, but it it is unexpected. It's very sturdy, comes in two pieces. The bottom piece is heavy. The top piece is very light. I had some difficulty getting the back aligned right to snap it together, but when I finally figured it out it went together fine. Overall I'm very satisfied with my purchase of this recliner.
I purchased this chair 6 months ago. It was shipped quickly, was easy to put together, and, though it is firmer than I really like, I have gotten used to it and have been enjoying it, for the most part. But here's the thing: it is already coming apart! I just noticed two places where the faux leather material is flaking. I know to expect faux leather to start peeling eventually but I have always gotten at least 3years of wear out of faux leather recliners I have purchased in the past. But only 6 months?? This is totally unacceptable! And I have been extremely careful with this chair. No pets or children have even come close to it, it has not bee exposed to extreme temperatures or sunlight, I have been its only occupant and I have never abused it or given it harsh treatment in any way — all I have done is normal sitting, about 2 or 3 hours per evening. I called Best Choice Products, thinking that surely they would so something to rectify the situation, but was only told, "Sorry. It is beyond the 60-days warranty and there is nothing we can do about it." Please….don't even think about buying this chair, unless you don't mind paying $250 for a piece of junk.