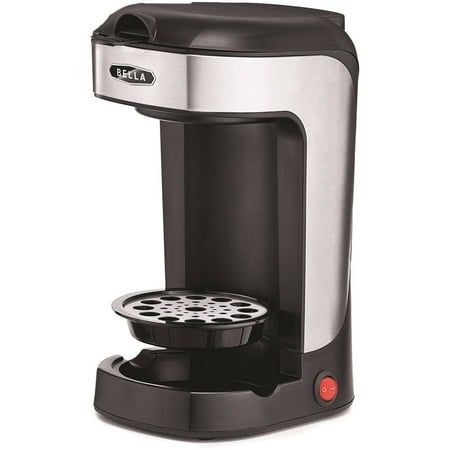 Enjoy a multitude of warm and delicious hot beverages and foods thanks to the Bella One Scoop, One Cup Coffee and Tea Maker. Simply add your favorite ground coffee or loose leaf tea, and in minutes you will be enjoying a perfect cup of coffee or flavorful cup of tea. Brew hot water for a variety of every day needs. Whether you're in the mood for your favorite cup of instant oatmeal, or your favorite ramen noodles, BELLA has got you covered. The adjustable height drip tray accommodates a variety of mugs and tumblers, which means you can easily select the right mug for all your hot beverage needs.
BELLA Single Scoop Coffee Maker, Black:
600 watts of power
Includes sustainable and reusable permanent filter
Great for coffee, tea and hot water
Easy, 1-touch operation
Adjustable height drip tray accommodates a variety of mugs and tumblers
14 oz water tank capacity
reviews
This is an awesome coffee brewer. It's fast, easy, and brews at a great temperature. Great cup of joe every single time!
I bought this coffee maker a few months ago and it's been just great. It's really easy to use and I use it once or twice every day. At the price it's unbeatable and I recommend it!
I bought this single scoop coffee maker for my desk at work. I prefer this to the Keurig because there is no waste from plastic inserts. Makes a great cup of coffee and I like that I can make a single cup at a time. The temperature is just right when it's finished brewing. You can use the mesh filter that's included. I found that the single serve coffee filters fit perfectly inside the mesh filter so cleanup is even easier. I've only had it about a month so I can't say how long it lasts. Hopefully a long time because I love it.
Just received my coffee maker which will make tea and also give me hot water for my oatmeal. Love that it's BPA free plus it has a sustainable reusable permanent filter. Good for the environment and my pocketbook .
I got this about a month ago to replace my current coffee maker, and I have to say I love it. It is a good size, easy to clean and
I use this product every day mostly every since I had it I like the fact that I can Brew just water to make noodles and oatmeal and stuff like that it's a great product
Worked okay for about a month. All of a sudden, I started getting about a half cup. This happened a couple of days ago. This morning nothing. I held the box and receipt for a month then tossed them out. Four days later, it stops working.