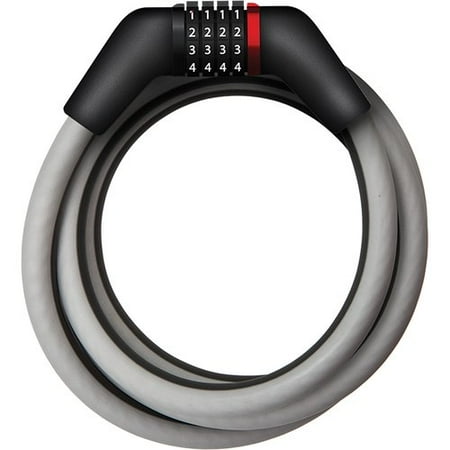 Protect your bike, skis, snowboards or skateboards with the Bell Sports Cable Bike Lock. It features an HD steel interior that is 12mm thick, which delivers a higher cut resistance and theft prevention. This Bell bike lock is designed with a vinyl coating to safeguard the paint and finishes on your sporting equipment. The combination lock is a series of four digits and can easily be customized to any number sequence.
Bell Sports Bike Lock:
5′ x 12mm braided steel cable
Thicker, stronger HD steel provides significantly higher cut strength
Dual color cable
Bell lock has a 4-digit resettable combination
Model# 7026405
Reviews
Very strong bike lock, product is excellent. Shipped out and received quick. The only small issue is I should of got letter combination instead of numbers, words are easier to remember.
I love that this is programmable – really easy to set up – took a minute to do. Good quality bike lock & a great deal for the price.
Seems to be of nice heavy duty quality. Extremely easy to set your own combination. If anyone tries to steal my bike, they're really going to have to work for it.
Being that it is the first bike lock I have ever purchased, I didn't know what to look for but this lock has been easy to use and not a hassle.
This is a great lock for a few reasons. I can set my own combination. It seems very strong and sturdy and that what you want in a bike lock. It was a very reasonable price. It is rated a 3 star instead of a 5 star on the packaging which I could not see when I ordered it, but its tough enough for me.
This lock arrive in good speed and is just what I was looking for. Was able to set the combination easily and for my purposes this lock is secure enough,I am not leaving my bike for hours on end in open public places. Would recommend .
The lock could not be set. Followed instructions that came with the product but the first tumbler could not be moved. Returned for refund.