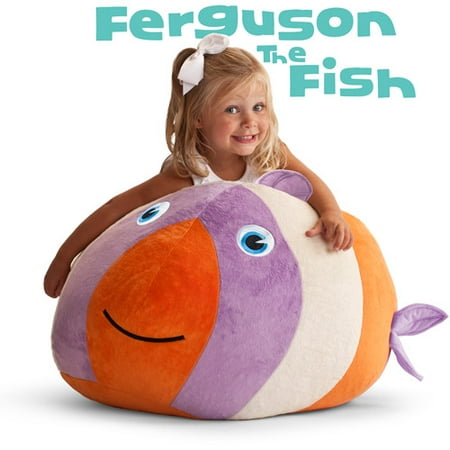 Ferguson the Fish is a Bean Bagimal Animal Bean Bag Chair that has a fun and friendly appearance to complement your little girl's room. It is made of soft, huggable and colorful fabrics. This child's bean bag chair is named Ferguson the Fish and is filled with UltimaX polystyrene beans to enable superior comfort. This item is also double stitched and has double locking zippers for an added level of safety for your children. The lovable and huggable design of this item will keep your child comfortable and amused. Bean Bagimal Bean Bag Chair, Ferguson the Fish:
Colorful bean bag chair
Ferguson the Fish character
Animal shaped bean bag chairs are fun and comfortable
reviews
This is a very cute bean bag "chair". It's a bit too full to be considered a chair however. I plan to empty out some of the beans in order to make it a bit more squishy. But for the under $25 price, I'd say I got my money's worth.
It's very cute. I'm a bit worried about durability, but it's too soon to tell how well it will hold up. Price seems good for the quality so far.
The bean bag chair is really cute and very soft! Just like the picture shown:). It came overly full though and I had to empty out some beans otherwise she wouldn't have been able to sit on it. But now it's fine and I know she's going to love it!
This bean bag animal is adorable! We have the owl and the elephant and both are very well made with soft cuddly fabric. Our two little ones love them!
I was looking for a couple neutral colored beanbags for my daycare kids for alternative seating. This one is cute, seems pretty durable, the kids seem to like it. It is not the kind of beanbag where you an really sink into though, but kids can sit on it or lay on it on their bellies, etc.
I bought Elliot for my classroom reading loft (kindergarten) and he is so cute! He is quite adorable and the perfect size. I don't know how well he will hold up to multiple children, but it looks promising. I wouldn't buy this for a child older than 5-6 because they would soon outgrow it, but yes for a younger child.
This is over stuffed. I was going to take some of the stuffing out, but when I unzipped it, there is another zipper under neath that I can't get to the zipper pull. So it make hard for little ones to sit on. Otherwise it is very cute and soft material.