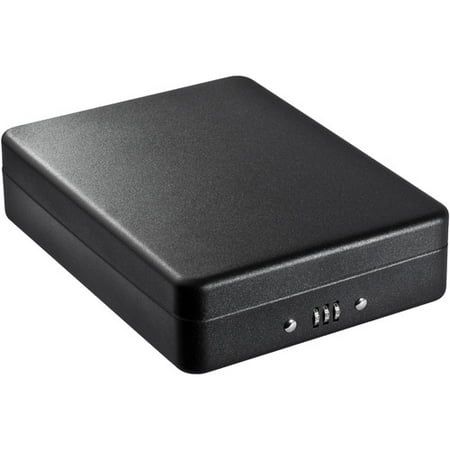 The Barska Combination Compact Safe is suitable for use in the home or the office. It secures and protects valuables such as money, credit cards, jewelry and more. A three-digit combination prevents unauthorized persons from accessing the contents. The combination can be reset for convenience as well as added security and allows for multiple user access. It is small enough to fit in a desk drawer and it can also be easily portable in a backpack, suitcase, vehicle or other location. It is made of steel so it is sturdy and durable as well as secure. Also included with this combination safe is a self-locking security cable so you can keep your valuables safely attached to a large fixed object, providing an additional layer of security. It weighs just over 2 lbs so it is easy to pick up and carry.
Barska Combination Compact Safe:
Body material: Steel
Locking system: 3 digit combination
Included accessory: Security cable
Exterior dimensions: 7.75″L x 10″W x 2.75″H
Interior dimensions: 6.75″L x 8.5″W x 1.75″H
Weight: 2.15 lbs
1-year limited warranty
Barska safe model# AX11678
reviews
I purchased for son to keep his valuable items secured during his new college experience . It is compact fits in the drawer and is spacious… Love it!!!