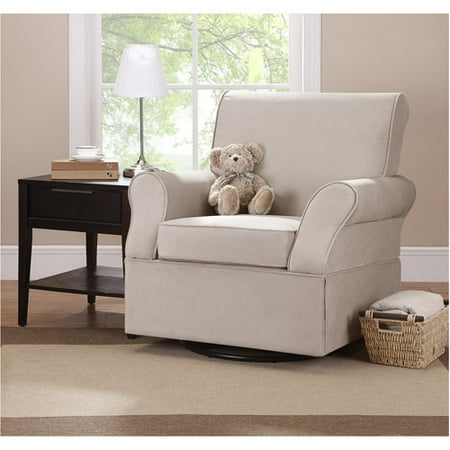 The Kelcie Swivel Glider will be your favorite place to spend time, relax and soothe your baby. This Kelcie Swivel Glider set features a rotating swivel function as well as a smooth gliding motion. The thickly padded seat cushion, seat back and armrests are designed for comfort. It boasts comfortable features, a solid wood frame and sturdy construction, all of which make the Kelcie Espresso Glider the perfect choice for quiet moments with your little one.
Kelcie Swivel Glider:
Features both a rotating swivel function and smooth gliding motion
Clean lines for contemporary styling
Seat height: 19.75″
Upholstered in espresso-colored microfiber
Thickly padded seat cushion and seat back
Solid wood frame
Minimal assembly required
Meets or exceeds U.S. Federal Safety Standards
Maximum weight capacity: 225 lbs
1 year limited warranty
Dimensions: 34-1/2″W x 36-3/4″D x 36-3/4″H
reviews
The chair is really comfortable for me. Just what I wanted. I got the beige/tan color.. wish I had seen the option to order with ottoman but I didn't until afterwards! Now I want the ottoman but not sold separately 🙁 The chair was a pain to put together I will say.. but once we did it's really great for the price for sure! The one I wanted at the baby store was $800 for the chair and ottoman and that's crazy to me. I like that this can be used in any room later on as well and doesn't look like it's only for baby room. Well worth the price and I got it on sale for $250 so that was awesome. I recommend getting the setup with ottoman though. I'm only 5'2 so the size is perfect. If you are like 6 ft tall though I would say get a bigger chair possibly.
I am thoroughly enjoying this chair. I didn't want a wooden rocking chair glider for our nursery but other options were so expensive. This chair met my requirements perfectly, coming in great on style, color and price! I'm 5'11 so I needed a chair that was a little bigger and this one is perfect. My daughter and I enjoy feedings in it and it cleans up nicely when spit ups happen. The one down side is that it's a bit loud when getting up which has caused my little one to startle and wake up. But overall I highly recommend this chair!
Got this for our grandsons nursery. Easy to put together and very comfortable.
Not the highest quality but I can't afford high quality. I bought this for my daughter. Simple to assemble. This was my second one. The first one was damaged and appeared to have been opened before. It was damaged in two places. I called the company as per the instructions and they instructed me to return to Walmart for a refund and reorder another which I did. Overall not bad
Great chair for the money. Smooth glide and it's comfortable. It's a firm comfortable be great for the cost.
Happy customer – Kelcie Swivel Glider Rocks! Light light beige in color. I needed two chairs for my small living room that could swivel in direction of tv but not staged to face tv. I searched many online sites and found these on other sites but WM had them each about $100 less than what other sites were priced. Not an expensive looking chair but looks VERY nice and a great fit for our space. Takes two people to put chair together. Fabric is very soft and nice to the touch. Chairs are not large so I would suggest using them with small to average size ppl. Not a big person's chair. Rocks and swivels smoothly. My chair looks exactly like the pic here. Not a perfect seamless joining of parts but looks good with no gaps on my chairs' joints. Align before tightening down. I am extremely pleased with my purcase @ $217.00 ea. Great brand I think from my reasearch findings. I would have loved to have had this in a nursery years ago! My Guest love them!
To be honest, I was a little nervous ordering any chair online after reading reviews about damaged parts and it taking months to get the correct pieces. This arrived in less than a week, was simple to assemble, is quite comfortable, and looks high end for a cheap price!
This chair is terrible. We just got it a couple weeks ago and it squeaks and makes so much noise when we rock in it. The "gliding" motion is more of an awkward rocking. The chair is very firm and uncomfortable. And it's designed in a weird way with the area where you sit being too high off the ground, but the back being really short. I have to sit forward and lean back in order to even rock my son in the chair. We are about to return this chair to WalMart for a refund. I don't recommend it to anyone.
Dorel Asia - Gliders & Rockers - WM108DSG - The Kelcie Swivel Nursery Glider will be your favorite place to spend time, relax, and soothe your baby. This glider features a rotating swivel function...
The Baby Relax Taline Swivel Glider will quickly become a favorite place to relax and spend time with your baby. Designed with comfort in mind the glider features soft-to-the-touch microfiber upholste...
The Baby Relax Remi Swivel Glider will quickly become a favorite place to relax and spend time with your baby. Designed with comfort in mind the glider features a beautiful linen-look microfiber uphol...