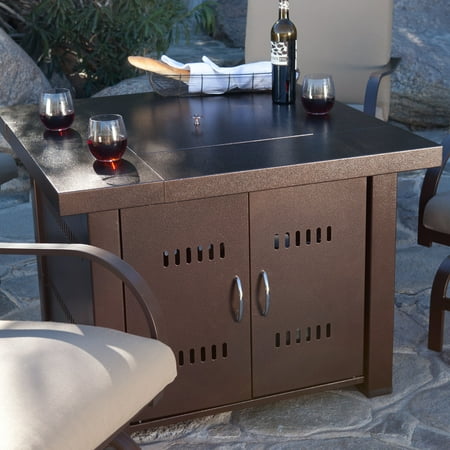 About AZ Patio Heaters LLC Established in 2002, AZ Patio Heaters has built a name for themselves as a leading US supplier of top-of-the-line heaters and replacement parts. A dedication to customer care and quality control make AZ Patio Heaters a go-to choice for heating in both commercial and residential areas. So step out into the fresh air – no matter what the season – and stay cozy and warm with AZ Patio Heaters LLC.The AZ Heater Propane Antique Bronze Fire Pit blends in beautifully with your other wooden or wicker patio furniture. The solid steel construction is incredibly durable and a hammered bronze finish gives it a rustic look that suits outdoor living. A battery-operated pulse ignition gives way to a propane heater that emits up to 41,000 BTUs of heat. Clear, chunky fire glass covers the burner and adds a touch of elegance. An easy access door located at the base allows you to conceal a 20 lb. propane tank (not included). And for your added safety, this fire pit comes with a thermocouple flame failure device. Measures 38L x 38W x 26H inches.
AZ Heater Propane Antique Bronze Fire Pit:
As seen on The Today Show!
Steel fire pit with antique bronze finish
41,000 BTUs with variable control
Comes with clear fire glass to cover the burner
Dimensions: 38L x 38W x 28H in.
Battery-operated pulse ignition
Easy-access propane tank door
reviews
It went together very nice. The instruction could have been a little clearer. When putting the legs on the bottom base it doesn't tell you which way is the front. All in all I would recommend this fire pit.
My wife and I researched many fire pits and determined that this one was for us. Many people said it was hard to start but if you read the directions it started on the first try for us. Put a coat of wax on it once in awhile and try to keep it covered when not using. It throws plenty of heat and the ambience is beautiful. We changed out the stones for blue fibreglass. It glows beautiful. We love it and highly recommend this product.
Delivery was very fast. Pretty easy to put together. Added extra glass rocks. Its looks great with the flames coming out of the glass. It looks like fire and Ice. Love it and would recommend it..
We had been looking all summer for a propane fire pit. The size and price of this one worked. Some of the other reviews we read had us a little worried. Ours came with no damage from shipping- we were very impressed with the packing. Also very easy for my husband to put together by himself, with a little time. The glass that came with the fire pit covered everything well. We enjoy it every night!
Easy to put together. Very cool to look at when sitting around and having some drinks with friends or gathering around at a party.
Buyers beware, shipping and packaging may be compromised during transit. I read many reviews online, including Amazon and others, and many have complained of the poor condition the fire pit box arrived in. My box was severely damaged. I try to be optimistic when I research items in hopes that I may be spared of such experiences-unfortunately I was not. The pit did suffer minor dents and some scratches but it was salvageable. As a precaution, I managed to spray a clear coat of lacquer on some of the scratches and areas that may rust due to scratches. The instructions were a bit sketchy but workable with some patience. The unit arrived with some missing screws and the fire glass box was damaged and most rocks were lost in transit and or damaged. I did contact AZ and request missing items be sent-waiting on my request to be fulfilled. As per AZ rep, items were going to be shipped to me (we'll see). The pit did assemble with no issues-everything aligned correctly and the pit did fire up upon start-up. I purchased a cover for it at The Cover Store online and cover fit well. All and all the pit is nice. Have yet to sit by it with my family and enjoy it-we're waiting for a nice chilly evening to sit around it. For the price, you really can't beat it. If you're a detailed oriented person like me, be prepared to have your pit delivered with minor scratches and minor dents. If your handy and creative-its workable. Hopefully the dents will be in areas that you can conceal with other components which was the case with mine-the pit top help conceal the dents on the top of the side panels. You have to be mindful that this pit is for outdoor use and it will be exposed to the elements. If it wasn't for the poor shipping and packaging method and missing parts. pit would have received 4-5 stars. Maybe you'll be more fortunate with your purchase. Also, get some extra Fire Pit Glass or Lava rocks-the choice it yours. The supplied amount is not enough…well I received 1/4 of a box of rocks-regardless get more. Thank You.