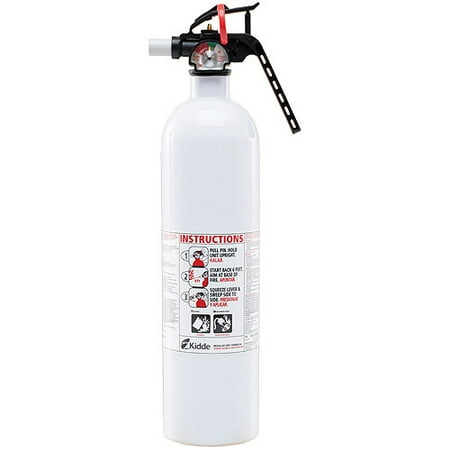 Be prepared to deal with an emergency with this Auto/Marine Fire Extinguisher. It is made to fight common blazes that happen in cars, trucks and watercrafts. This Kidde fire extinguisher is most effective against flammable liquids and electrical equipment. It is disposable after use. This product also has a white body.
Auto/Marine Fire Extinguisher:
Fights common fires in automobiles, trucks and watercrafts
For use on fires involving flammable liquids and electrical equipment
Disposable truck fire extinguisher
UL rated 10-B:C
10-year limited warranty
Model number: 21008634N
Color: white
reviews
I haven't used this yet thank goodness but it's a good size, not too large, not too small.
The fire extinguisher look good and was easy to install. I hope it wont be needed, like the old one this replaced.
This is a excellent type of fire extinguisher for atv, utv use. Covers all the type of fires related to riding, machine it self, and at a great price. The service was great, and picked it up at store next day. Doesn't get any better than that. Old man Pa.
Got it quickly and the price was great. I will order more to put in various places, around the house, my car and boat.
I hope that I don't have to use it,but every home needs one…just in case
good product just hard to get clam around extinguisher !!!!
I keep 2 of these for emergencies. During a recent chimney fire I used both in attempts to put out the fire. Both were between 3 & 4 years old. Both completely discharged in about 4 to 5 seconds. Both bottles feel like they're still at least 1/2 full but there isn't any pressure to dispense the fire retardant. Kind of a waste.