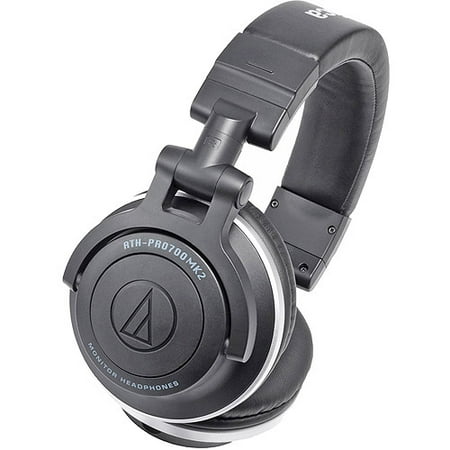 The Audio Technica DJ Headphones with Dual Use Cords boasts quality sound in the DJ booth with high SPL and a thick bass making the beats really easy to listen to even in high ambient sound situations. The DJ monitor headphones swivels 50/90 degrees to accommodate your monitoring style and the lightweight design makes it perfect for long hours of DJ play. The detachable cord makes maintenance a breeze and there are two types of cords to choose from. These professional DJ headphones deliver clear, well-defined trebles and rich bass response. The Audio Technica DJ Headphones with Dual Use Cords are a smart investment for any serious music buff and will bring your passion to another level. The DJ monitor headphones include two detachable cords, one screw-on adapter and a handy carrying pouch.
Audio-Technica Professional DJ Monitor Headphones with Dual Use Cords:
Clear, well-defined trebles and rich bass response
53mm drivers designed exclusively for PRO700MK2
50/90 degree earpiece swiveling capability
Provides a perfect fit for every monitoring application
Lightweight design for maximum comfort during extended use
Frequency response: 5Hz – 35kHz
The Audio Technica DJ Headphones with Dual Use Cords includes 2 detachable cords (one coiled, one straight), screw-on 1/4″ adapter and carrying pouch
reviews
Simply put these are amazing headphones. Having several pairs of high-end cans, from Grado to Audeze, these hands down are the best. The comfort factor is a con for many; they can be stretched by lightly bending the headband, it can take it don't worry. And I've swapped the ear pads out to the ones from the ATH-50's, and comfort is no issue. The highs are clear and defined, while the lows are deep and plentiful, and the in betweens are spot on. With or without an amp. They are easily driven by an iPhone or a Creek, Pathos or Meridian Amp. Extremely sturdy as everyday cans, can be thrown about and no issues or breakage. Irony is that in many "Beats" ads, Dre is using these very headphones. Shows you right there. From Classic to Hard Rock, to Jazz, to Dance, to Electronic, to Trip Hop, every genre is brought to life with these cans. Pure and simple And the price? Mind boggling.
Great style and all. I wear them everyday to school and they sound just as I need. They really are awesome.
I don't need to look any longer for "that sound". I found it with the ATH Pro 700 mk2! I am the owner of 4 set of headphones including HiFI Man He 400s which were my main headphones before the Pro 700s'. However move over HE 400s', Audio Technica is in town!Wow what clarity, The music pops out at you and every note is like high definition. The treble and mids are reproduced perfectly and by the way did I mention the bass. Absolutely wonderful with tremendous impact! These headphones come with 53 mm drivers. Yes 53MM. Which I'm sure accounts for that deep tight bass. By the way these are a great buy for the money. It should be noted that I drive these with the FIIO E17 amp(not expensive) which has adjustments for treble mid,bass and gain and If you love music the way I do this is the way to go. Finally, comfort wise I would advise getting the ATH M50 replacement pads(they fit) and then your set for a musical experience. Just to add to those of you who are deciding on the ATH M50s or these. I have the M50s and they are nice but if sound means everything to you then the Pro 700s are a major bump up.
The headset was a gift for my dear husband (77). He has hearing issues but is an avid music fan, you tube, itunes etc. He has had several inexpensive headsets but is very pleased and impressed withe quality of the sound with this one. Of course, I am happy that he is! Much of the technical info and reviews were over my head but clearly, it was a good choice.
Bought this headphones two months ago and suddenly only work the right side.
Audio-Technica ATH PRO700MK2 Professional DJ - Headphones - full size - 3.5 mm jack Color: Multi color.