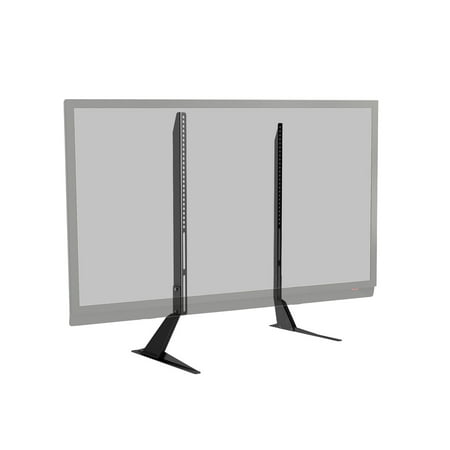 The Atlantic Furniture Tabletop TV Stand in Black is an ideal accessory for your flat-panel TV. With its adjustable height and durable, sleek design, it should satisfy your need for a functional tabletop TV stand. This adjustable TV stand is versatile, as it can be used for desktops or for a firm stand on a dresser in your bedroom. It is easy to attach and much more stable than the stands that come with flat-screen TVs. Measuring 27.5″ high, the Atlantic TV stand fits many flat-screen TVs as well as many spaces to give you many choices for where to place your TV. It is an excellent option when you are looking for a quick and easy way to place and secure your flat-panel TV without mounting it to your wall or needing to assemble an elaborate TV stand.
Atlantic Furniture Tabletop TV Stand, Black:
Durable, sleek design
Height adjustability
Easy to attach
Atlantic TV stand fits TVs with 75mm x 75mm to 600mm x 600mm VESA hole patterns
Dimensions: 4.75″W x 14″D x 27.5″H
1-year limited manufacturer's warranty
Model# 63650138
reviews
This stand is okay for a flat screen. on it's lowest setting it will still sit a bit high, but will not fall over. The instruction are a bit off for the final placement of the stand to attach to the flat screen TV.
Good product met my expectations
I lost my previous stand to my TV and this was an excellent replacement…I had to drill extra holes to make it fit the space i had to fit my TV.
Works as described, adjustable height, reasonably priced. I am not sure I necessarily like the look, but it's functional.
I bought this because we had misplaced the parts for our original stand after taking the TV down off the wall mount. I was looking everywhere to find something and this worked. It's universal to fit most all flat screens and came with tons of different hardware screws to fit different configurations. My TV is a 52″ Sharp and is very sturdy on this stand at a great price.
I was skeptical but this stand works perfectly with my 50″ tv. There hasn't been any wobbling or tipping over at all. Comes with a universal pack to fit several different tvs so when it says universal they mean it. The instructions were simple to follow and all tools were included except for the screwdriver to actually attach the stand to the TV. Definitely recommending this budget friendly find!
Though this product came with a variety of screws, none of them quite fit my TV (32 inch insignia) so after a lot of confusion putting it together the metal bars were still a bit loose. It still works overall, but if you have any small children that may pull on the TV watch out!