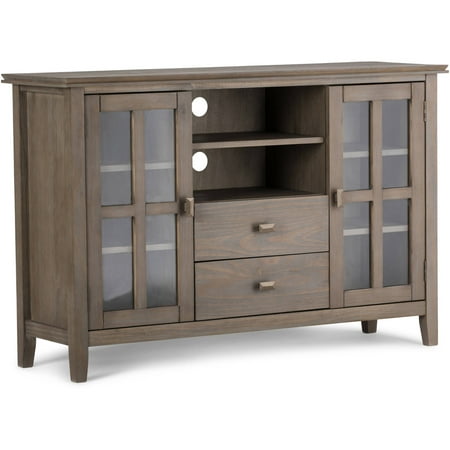 You just bought the ultimate large flat screen TV. Now what to do? Hang it on the wall? No, you need the perfect TV Stand for storage and to enhance your viewing pleasure. Look no further than our most popular Artisan TV Stand. It is perfectly sized for TV's up to 60 inches. The 35 inch height puts the TV at a level that is ideal for comfortable viewing. The Artisan TV Stand has plenty of storage and space for all your media and gaming devices. It has a large centrally located open area with one adjustable shelf and two drawers. The two large side storage cabinets open to two adjustable shelves. The unit features cord management cut-outs for easy installation of TV and media components.
Brooklyn + Max Holden Tall TV/Media Stand for TVs up to 60″:
Handcrafted with care using the finest quality solid pine
Hand-finished with a Natural Aged Brown finish and a protective NC lacquer to accentuate and highlight the grain and the uniqueness of each piece of furniture
Wide + Tall TV Stand is perfect for TVs up to 60″
Functional and versatile TV Stand features 2 central drawers with metal glides, open center area with adjustable shelf and 2 side tempered glass framed doors that open to large storage spaces with 2 shelves each
The unit features cord management cut-outs for easy installation of TV and media components
This item is hand-crafted and hand-finished with utmost care, as such variations and imperfections should be expected and should be welcomed as the natural beauty of the wood
All efforts have been made to reproduce accurate colours, however variations in colour may occur due to different monitor types and photography
reviews
I was a bit skeptical, fearing this stand would not be what it appeared to be in the pictures – but it is! It is the exact colour we expected, it is stylist, and it is sturdy. Two people have already asked where we bought it 🙂 Oh – and – it arrived less than a week after we ordered it.
I've had this tv stand for 4 years now. I love that it is made of real wood, and the colour is a nice brown with some slight reddish tones. It holds my flat screen tv perfectly as well as my books and I like the drawers for hiding items that look messier. The two reason I didn't give it 5 stars were a) it was kind of a pain to assemble. It took my husband and I a few hours to put it together. b) it did have some a couple quality issues – one of the drawer rollers was broken so one of the drawers doesn't glide quite right, and there was a crack on the top that I've hidden with a table runner. After assembling it I really didn't feeling like disassembling it to drag it back to the store, so I figured I'd just live with the two flaws, which haven't been a big issue in the 4 years I've owned the stand. It also does scratch fairly easily, so you have to be careful with items placed on the top of it.
I bought this and the bookcase to match. They arrived to the door in a matter of days much to my surprise. They were quite easy to put together and look great.
The product is very attractive and relatively solid for the price. The one issue we had was that it came with no assembly instructions which lead to a much longer time for assembly and some changing of parts to make it work due to mistakes.
Great stand works very well – however received they item damaged the top corner of stand was crushed – very disappointing
I bought this unit just over a month ago. I chose it for it's nice appearance and it was the perfect size for my needs. Unfortunately, It arrived, after a ridiculously slow delivery process with one cracked and warped shelf and a warped top as well.