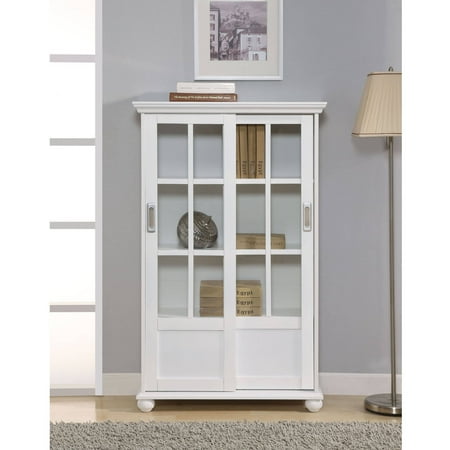 Organize your books in style with this Arron Lane 4-Shelf Sliding Glass Door Bookcase. It features four storage shelves, three of which are adjustable, and a lustrous high gloss white finish that fits in well with your home's overall decor. This white bookcase with glass doors allows you to display items such as books, mementos, ornaments, souvenirs and more in plain view. It is easy to assemble, and its boards are ecofriendly to reduce the number of toxins in the air.
Altra Bookcase with Sliding Glass Doors, White:
2 sliding glass doors
4 storage shelves, 3 of which are adjustable
Eco-friendly boards reduce the toxins in the air
High-gloss white finish
Easy to assemble
Dimensions: 48″ x 30″ x 13″
Model# 9448196
Altra bookcase comes in multiple colors (gray and white)
reviews
I bought this "bookcase" to be used as a small pantry for a new room addition with a coffee bar in a narrow hallway. It fits perfectly in the space and functions exactly as I had planned. It holds some cookies, cans of soup, coffee pods, paper towels and other items. It's narrow enough for the hallway and the sliding doors are perfect to not obstruct the passageway as it would have with doors that swung open. I am very pleased with this product. A good value for the money.
I love my Arron Lane bookcase. It's the perfect size for where I need it and stylish too. I paid about 150.00 for it and wouldn't advise paying more than that since it is not high-quality wood. The back of it is basically a heavy cardboard and the doors slide very nicely!
This bookcase was a great purchase. I love the look and it fits perfectly in my office. I didn't give it a 5 star because it is not as sturdy as I had hoped. My husband needs to fasten it to the wall so that it is secure. Wasn't too difficult to put together, it took my husband about an hour to do. For the price, I think it is a good deal!
Loved these bookcases. I purchased 2 and they arrived in perfect condition. Not too hard to put together . The hardest part was unpacking them . I am not complaining that is how they arrived in pristine condition . I had wanted them originally for each end of a fireplace but after reading reviews of others , one little lady like me , had used hers to display a collection of teapots ! I did the same and they are beautiful at the end of my kitchen . Now , I have to purchase 2 more for my fireplace !
It's quite nice, clean, chic looking, and stable. The doors wabble a bit when we walk by sometimes, but to be fair we have hardwood floors.
Perfect fit for the space. Using in master bath as a linen cabinet. Love the sliding doors. Took a little longer to assembly than expected. Instructions could have been a little clearer in some areas
the doors when you open them come off track and fall off.