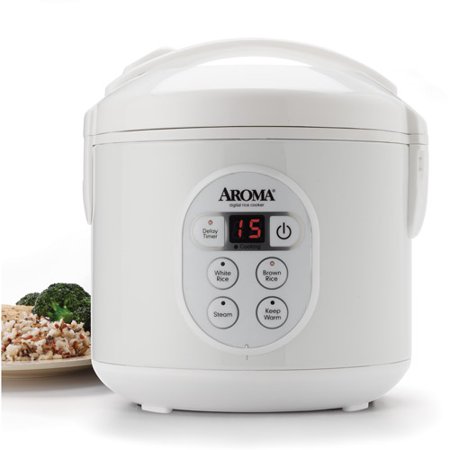 Easily make restaurant-quality white and brown rice, healthy steamed meals and hearty soups and stews with the Aroma Digital Rice Cooker and Food Steamer. It flawlessly prepares two to eight cooked cups of any type of rice with specialized functions for white rice and brown rice. The included steam tray allows for meats and vegetables to be steamed while rice cooks below for easy, one-pot meals. The programmable 15-hour delay timer allows for rice and water to be added in the morning and programmed to have it hot and ready when it's needed at night. When the cooking is done, the non-stick inner cooking pot removes for quick and easy cleaning.
Aroma 8-Cup Digital Rice Cooker and Food Steamer:
This rice cooker steamer perfectly prepares 2 to 8 cups of cooked rice
Steams meats and vegetables while rice cooks below
Easy-to-use digital controls
White rice, brown rice, steam and 15-hour delay timer functions
Great for soups, stews, chili and more
Includes steam tray, measuring cup and serving spatula
Aroma 8-Cup Digital Rice Cooker Model# ARC-914D
reviews
I eat a lot of rice, so a reliable steamer is critically important. This is my third Aroma rice maker and by far the best. It has significant design improvements that make it easier to use and clean.
It cook rice without worry, it is too small for 8 cups? but it work for small cooking.
The lid seals very well because of the design, so compared with those normal lids rice cookers, the the rice is very well cooked. The rice doesn't stick to the container. The design is very good too–not too big but has all the functions. I'm very satisfied so far.
Easy to use, space saver on the counter, works great for a small family, the best part: stress free rice everyday, as little as you may want. if you need to cook for more than 6 people, it's very likely that you'll need a bigger cooker, or to run it twice, depending on your ration's size, otherwise just great.
The size of this rice cooker is perfect for us, small and cute, good for 2-3 people. The delayed timer is great! I can set it up in the monring and come back home in the afternoon having my rice ready to eat.
I love it not only for the easy cooking of rice but also for steaming fresh veggies which are so good.
This product cover all my expectations, because it is possible cook white, brown rice and food steamer with only press a button. I do not need to worry for nothing else. Moreover, you can also schedule exactly what time you have your rice ready. It is perfect for very busy people, that can not spend a long time in prepare the meals for the family.
Nothing more to say except the product does what it say's it will do . Excellent
I had an old version of this cooker with a manual cooking botton. They key broke after 2 years. I got this one with digital key this time. I liked it so far. recommended…

I have an Asian household so rice is a stable, this thing takes forever to cook rice brown rice specifically. One hour to cook rice. I can't recommend this product there are better ones out there that cooks in a 1/4 of the time.