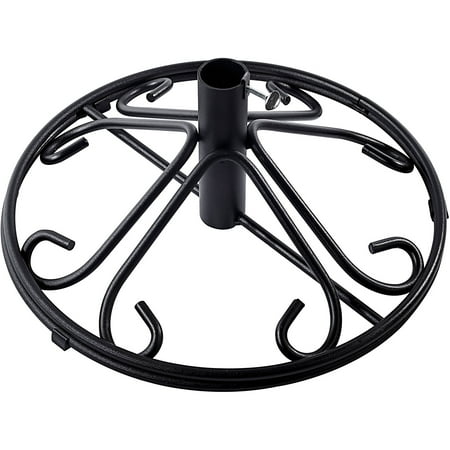 Stay cool and comfortable under an outdoor umbrella with peace of mind that it is stable and secure when using this Arlington House Wrought Umbrella Base. This outdoor furniture accessory features fully welded, durable wrought iron with a powder-coat finish. The Arlington House umbrella base accommodates most standard size umbrellas. Designed to provide long-lasting performance, it is resistant to rust and chips, so it will stand up to weather and look its best all year long.
Arlington House Wrought Umbrella Base:
Fully welded
Powder-coat finish
Wrought iron
reviews
This stand is made in the USA. It is very well made and nicely finished. The parts bag contained the locking screw and "stand-offs" which allow for very complete drying of the patio's wood decking. Other stands don't have this feature and will quickly allow staining and wood rot. We have a 9′ umbrella which will be used in conjunction with a bar height black wrought iron bistro table and two chairs.
The stand is nice and heavy, and looks great. Item list on included instructions says it should include a 'thumb screw' which my parts bag did not include.
We have had some very strong winds since we put up our umbrella, and it has remained in place, so we are delighted. I would have preferred white, but black was the only color available. I chose this model because most others were too tall to fit under my patio table.
Matches nicely with Arlington House table and chairs to which it will be placed
The base is clearly intended to hold the end of an umbrella that passes through the center hole of a patio table. I am very happy with my purchase – It is an inexpensive solution for my need. But I would warn that it will not be able to hold the umbrella without the table.
Bought this same item a few years ago and it has held up well. Needed a 2nd one for additional patio umbrella and and was glad to find a match.
I purchased the stand it was fine for few weeks but one day my umbrella stand fell , broke the umbrella s wing . I got my pretty red umbrella broken . I took it back to the store . I was really disappointed because i hoped it was better then the plastic 8.99$ stands . will look at the ones for a 100$ iron and heavy and have it for 10 years i hope or more . wall mart has it all . cheap and expensive . so i need to go shopping again .
Arlington House Wrought Umbrella Base: Fully weldedPowder-coat finishWrought iron