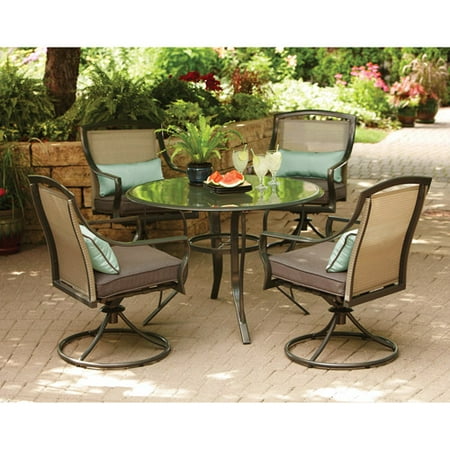 Enjoy the outdoors in modern style with the Aqua Glass 5-Piece Patio Dining Set, Seats 4. This set features beautiful ice blue cushions and comfortable swivel chairs suitable for kids and adults alike.This set includes a table with a scratch-resistant tempered glass top with a hole for an umbrella, and swivel chairs with durable steel frames. The cushions and pillows are all made of easy-care fabric.
Aqua Glass 5-Piece Patio Dining Set, Seats 4:
Table:
42″ diameter x 28.5″H
Tabletop with scratch-resistant tempered glass
Umbrella hole in table measuring 50.8mm inner diameter
Durable steel frame
Swivel chairs:
30.25″ x 29.25″W x 36.25″H
Durable steel frame
Each chair supports up to 250 pounds
Easy-care fabric
PVC-coated polyester with olefin cushion cover
Manufacturer's Information:
Assembly time: approximately 20 minutes for 2 people
Care and Maintenance:Clean the set with mild soap and water and rinse with clean water and dry cloth. Clean cushions with a solution of one tablespoon of liquid dish soap in one gallon of water. Rinse well and air dry. Do not use bleach or solvent.
1yr Limited Warranty, Glass breakage not covered
For more information, please call 1-866-391-4865
reviews
The chairs are so comfortable. love the swivel and seem to be very sturdy. had for a month now and still love. Table very sturdy. I am so glad I purchased this set.
Received and put together in under an hour with only one person. It is a very nice looking set. Seems to be very sturdy. Chairs comfortable. Very good purchase. Thanks for the great deal!!!
Excellent product for the price. I called Pilot Freight Services to arrange for delivery and they were able to bump shipment up by 2 days to make it here for Memorial Day weekend. Everything came neatly wrapped and undamaged. I do have to say, I spent more time taking all the foam protective padding that was taped on everything then it took to assembly everything. Over all very satisfied with this purchase and cant wait to get home and have cocktails using my new dining set!
Very easy to set up. Looks great and comfortable. Well worth the cost!
Beautiful and easy to put together. The packaging was amazing! Not a stratch on anything!
After some necessary but tedious unpacking and assembly, this table and chairs turned out to be sturdy and asthetically pleasing. I would purchase again.
After waiting a long time for this patio set to become available because it was out of stock I ordered it on June 4th. The table arrived June 18 th with chips in the glass top and support brackets broken. I was notified that the chairs would be delivered on June 22. I contacted Atlantic Freight to set up the time frame of delivery because I live in a gated community. I was informed that delivery wouldn't be possible until the following week . I had plans to go out of town and asked if it would be possible to hold the chairs and deliver them when I returned. Upon my return I called to set up delivery, and was informed that my chairs could not be found. Needless to say I am VERY disappointed and upset. This set is again not available/ out of stock.