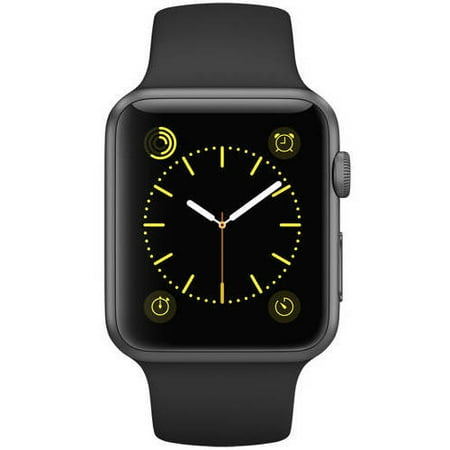 Receive and respond to notifications in an instant. Track your daily activity. Control your music using only your voice. Pay for groceries just like that. With Apple Watch, important information and essential features are always just a raise of the wrist away.
Apple Watch Sport 38mm or 42mm Space Gray Aluminum Case with Black Sport Band
Anodized aluminum case in silver, space gray
Ion-X glass
Retina display with Force Touch
Composite back
Sport Band with stainless steel pin
Digital Crown
Heart rate sensor, accelerometer, and gyroscope
Ambient light sensor
Speaker and microphone
Wi-Fi (802.11b/g/n 2.4GHz)
Bluetooth 4.0
Up to 18 hours of battery life1
Water resistant2
1 – Battery life varies by use and configuration; actual results will vary. See www.apple.com/batteries and www.apple.com/watch/battery.html for more information.
2 – Apple Watch is splash and water resistant but not waterproof. You can, for example, wear and use Apple Watch during exercise, in the rain, and while washing your hands, but submerging Apple Watch is not recommended. Apple Watch has a water resistance rating of IPX7 under IEC standard 60529. Features are subject to change and may not be available in all regions or all languages. Requires iPhone 5 or later. TM and © 2015 Apple Inc. All rights reserved.
Reviews
Bought this watch for my husband. And he absolutely loves it! We would definitely recommend it to anyone. Hope you will make up your mind and just buy it. And shipping was super fast. I received it on the 3rd business day!!
Like the watch. Some features aren't as smooth as I had hoped for. Example: calling via watch has incredible lag time and makes conversation drag out. Certain applications you transfer from your phone don't blend well which makes the simple functions on the watch slow down. Was expecting more than a single day charge out of the watch. If you compare the heart rate function to other very accurate sensors it is very subpar. I really purchased for the precise nature apple products have but very much lacking compared to similar sensors utilizing optical heart rate sensing technology. Very comfortable and has a good fit.
Bought this primarily to help me track my physical activity. I LOVE that it reminds me to get up & move, checks & logs heart rate, logs movement, activeness, time spent standing, and exercise activity. Other fantastic functions: view up to 4 "complications" (instant access icons) on the customizable main screen, like weather, stopwatch, calendar, physical activity tracking, battery life, stocks, and more. Also, view on the watch your iPhone camera's view & get 3 seconds to line up and snap the perfect selfie or groupie shot remotely and at a great distance (eat it, "selfie-stick")!! Of course make/take calls, silently check & respond to texts & emails. Alarm, apple pay, world clock, Twitter, Facebook, music, photos, and other third-party apps available in 2 steps.
This thing is excellent. I got it manly to track my fitness progress. I even got one for my wife. Absolutely excellent. I'd recommend it to any one.
I hesitated buying an Apple Watch. I never wear a watch and hated the feel of one. I finally decided to give it a try and I am glad I did. The bands are very comfortable and the watch is very useful. I work from my phone all day everyday. It is so convenient to leave your phone in your pocket to glance down and see the importance of the email. It's also great for notifications for twitter, Facebook, Instagram etc. I am thrilled with the purchase and am glad I made the jump.
I love my new Apple Watch! It does so much more than what I expected! Well worth the money!
The Apple Watch is a great investment. I love the navigation while driving. The phone taps your wrist to remind you to make a turn! How fantastic is that?! I like the option to change the bands. You can dress Apple Watch up or down. Get yours all of you IPhone users!!!
Love the technology in viewing my texts and calls without pulling out phone. Like the sudden nudges telling me I need to get up and move. Good investment!
I have found it to be handy and enjoy using it. Fortunate to have friends and family who can help me with it. Not very good with new devices of any kind.