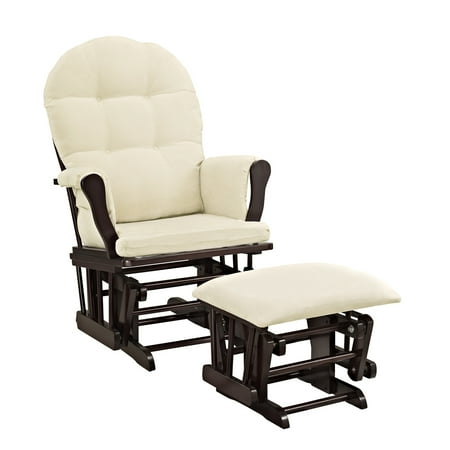 This "Windsor Glider with Ottoman" is the perfect product to complete your nursery. It has enclosed metal bearings for smooth gliding motion, generous seating room with padded arms and pockets for extra storage. The glider and ottoman pieces have solid wood frames for stability. Angel Line Windsor Glider with Ottoman:
Enclosed metal bearings
Solid wood frames
Generous seating room
Padded arms
Storage pockets
Warnings
:
Warning Text: DO NOT sit on the edge of the seat, armrests or on the backrest as this could cause the chair to tip over. DO NOT use the chair as a step stool. DO NOT leave children unattended on or beside the chair.
Directions
:
Fabric Care Instructions: Do not machine wash;Spot Clean
reviews
It was very easy to put together. We got it for the nursery. Not due until August but I sit in this chair pretty regularly. It's become the most comfortable seat in the entire house. Especially because our couch is deep and the bigger I get the harder to get off the couch. Lol. Another highlight for this set, very sturdy. I'm already a big prior to the pregnancy and this chair is solid and I feel secure in it.
Was pretty easy to put together, I thought it looked very nice, smooth glider, no squeaks but one thing I'd like to have seen is a thicker bottom cushan but for the money all in all nice glider. I just got it so realy to soon to give a overall rating for wear. It also came earlier than expected.

Exactly as described, very comfy and roomy. Wish the seat head more foam, but is very enjoyable as is.

We reeceived item in a timely manner exactly as detailed. Super easy to put together (per my handy husband, took him 20 minutes). Functional and aesthetically appealing. We use it to read in and rock our baby.
This glider was very well priced which made me hesitate to buy. It was put together in no time and looks great. The gliding is smooth and the wider body is perfect for mother and baby. The wood is dark and scratch free. The material is thin and a true cream color. We have put a lap blanket across it in order to preserve it from stains. The bottom cushion is thin and may need to be replaced. The ottoman was a bonus seat for guests. Would definitely buy again.
Looks nice,sturdy,fabric feels nice,smothgliding,and most important thing it is very comfortable..i try to sit there even when i am not nursing..
chair extremely and cushions fabric not decent quality