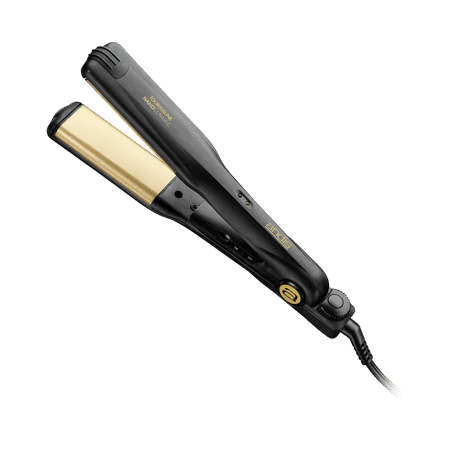 Andis Professional Series Curved Edge Flat Iron, 1.5-Inch. Some types of hair are a little trickier to handle than others. Whether its thick or fine, all it takes is the right tool from Andis to transform curly or wavy hair. Even straight hair can be given an ultra-sleek, smooth finish in no time at all. Andis flattening irons feature even heat distribution, multiple settings, tangle-free cords and plates that resist heat corrosion. All of which help deliver professional results.
Perfect for creating smooth curls, waves, flips and volumes.
Curved plates straighten without leaving dents or lines in the hair.
Tourmaline crystals quickly seal the cuticle layer and eliminate frizz for smoother, silkier hair.
Nano-ceramic technology creates an ultra-smooth finish and even-heat for increased luster and shine.
Maximum heat up to 450F for long-lasting styles.
Dual voltage for worldwide use.
Auto shut-off for added safety.
Tangle-free, swivel cord.
Closing lock for easy storage.
5-year warranty.
MOTOR Volts120/240 V Frequency50/60 Hz
reviews
I have this flat iron & have used it for years. I choose it bc of good reviews & cost. My daughter had a cute pink iron but it didn't work so well so she was always using mine. So, I got her one of her own.
Love this flat iron, this is my 2nd one.
my friend had the older version of this flat iron she let me use it because mine broke OMG best thing ever I had to go out and buy this one and i must say it works wonders my hair is very curly and thick and frizzy… when people see me they think my hair is naturally straight totally worth $25 and it curls my hair better than a curling iron and the curls are still there by the end of the day!