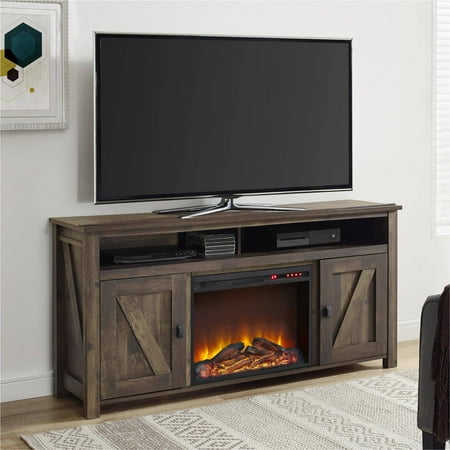 Create a warm and inviting atmosphere in your home with the Ameriwood Home Farmington Electric Fireplace TV Console. The Console includes a remote controlled 23 electric fireplace insert that gives a realistic glow of a wood burning flame without all the cleanup and work of a wood burning fireplace. This fireplace will heat up a room up to 400 sq. ft. to the perfect temperature from 72 to 82 or use it to create a relaxing ambiance with its multiple light settings without the heat option. The LED light source boast up to 50,000 hours of life for a fireplace that will last for years to come. The weathered medium brown finish emulates the color and texture of an old wooden barn giving this piece a cozy feel. This TV Console is built to accommodate flat panel TVs up to 60 wide and up to 95 lbs. The Farmington also includes 2 side cabinets that conceal 4 storage shelves and a large open divided shelve for your cable box, DVD player or video gaming system. After proper assembly by 2 adults, this unit measures to be 29.125h x 59.625w x 15.6875d and is crafted out of laminated MDF and particleboard with a metal frame insert. Ameriwood Home Farmington Electric Fireplace TV Console for TVs up to 60″, Rustic:
Bring the outdoors in with the rustic look of the Ameriwood Home Farmington Electric Fireplace TV console finished in a textured medium brown woodgrain with a weathered look
TV Console is equipped with multiple storage spaces for your DVDs, video game systems and cable box and also holds flat paneled TVs up to 60″ wide weighing no more than 95 lbs
Console comes with a 23″ electric fireplace insert with a remote control (batteries included) to create the perfect room temperature using LED lights
Two adults are recommended for proper assembly. Dimensions: 29.125″h x 59.625″w x 15.6875″d
Constructed of sturdy laminated particleboard and MDF with a metal frame firebox insert
reviews
I like almost everything, easy to build , sturdy, color is great. Thing I didn't like is the middle full length shelf is not double sided with the color so u can see the particle board when u open the cabinet on the top , that's unattractive.
Lovely piece, heater works great. The reason I didn't give it 5 stars is because the back of the heater was dented and one small section of the fire log has a noticeable crack and it looks weird when lit.
Love the rustic look of this fireplace/ entertainment console. Great deal for price
Shipping was faster than expected and we couldn't wait to put it together! I will admit that it was not easy to put together for my husband but once he started, it was up and running in about 4 hours. Built very sturdy, insert is easy to operate & keeps me warm! I love it!!!
The product was shipped securely and is heavy due to packaging materials used. Make sure to team lift. It was not difficult to assemble. Read the directions first; took about 2 hours from unpacking to a fully assembled media fireplace. We love the color of this media fireplace. We'll see how the fireplace performs during this winter.
My unit came with some damage…It also had some manufacturing defects in the laminate over the wood.
Cozy up to watch your favorite film with this Walker Edison BB58FPCBL TV console, which features 5 glass shelves for plenty of media storage and an electric fireplace insert.