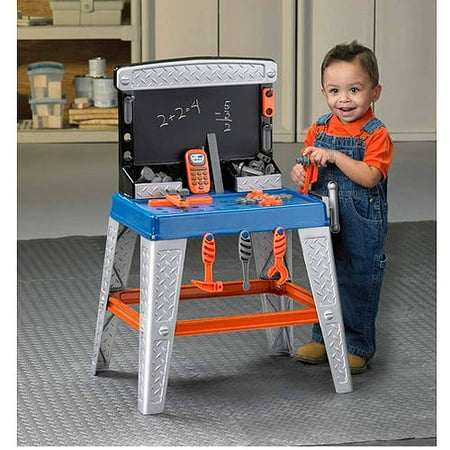 The American Plastic Toys My Very Own Tool Bench is a 35-piece set that has everything that your toddler will need to create his very own piece of furniture. This toy set includes a hammer, screwdriver, wrench, nails, nuts and bolts, interlocking gears, brackets, a ruler, a cell phone, and utility hooks. The textured back can be utilized as a chalkboard.The tool bench can be used as a pretend play toy that your toddler will want to repair or rebuild over and over. However, the toy requires adult assembly. The hammer and screwdrivers have rounded soft plastic edges to prevent any damage. The kids' tool bench is ideal for children who are two years of age and above. This tool bench is part of the family of Pretend Play toys produced by the American Plastic Toys. The packaging is very colorful and is sure to bring a smile on your toddlers face.
American Plastic Toys – My Very Own Tool Bench:
Textured back that can be used as a chalkboard
Hammer
Wrench
Screwdriver
4 nails
6 bolts
6 nuts
5 interlocking gears
5 connector brackets
Cell phone
Ruler
3 utility hooks
Adult assembly required
Assembled dimensions: 22.75″L x 15.625″W x 31.375″H
reviews
We bought this for our 2 year old who wanted to be like Dad in performing DIY tasks around the house using the toolset. My son used the toy regularly for almost a year. Very happy with the purchase.
Got this about a year ago, and it is still one of the little guys favorite!
My son loved his so much we got one for our nephew. Shipping was super fast.
Product is good quality yet inexpensive…. would recommend
It was for my Great Grandson's Christmas. He loves it. I knew he wood because he wants to play with my tools. So now me and him can work together.
My 2 and 4 year old love to play with it and its American made.
Assembly was quick & easy. Our 2-year-old grandson found it easy to use the tools–pounding the "nails" & turning the "screws".
We gave this to our 17 month old grandson for Christmas and he loves it! At this age his attention span is not very long but the tool bench keeps him involved and he returns to it again and again.
Bought this for my grandson and he loves it. Easy to put together and doesn't take up alot of room.
This whole set is EXTREMELY flimsy. Many of the pieces do not fit together correctly and the legs are uneven sizes (they came that way) so it stands tilted. Hooks do not stay in, "chalkboard" is not usable. It is hard to write on and even harder to get the writing off. The vice grip is absolutely terrible and unusable. Child got bored with this quickly, there is not much to do other than hammer or screw the exact same 6 pieces together. No words for directions just blurry pictures. Looks like a decent toy but it is just not functional or well though out. If you are considering buying this product, my advice would be to look at a different brand or one that is a little more expensive. It is a waste to pay even $20 for this.