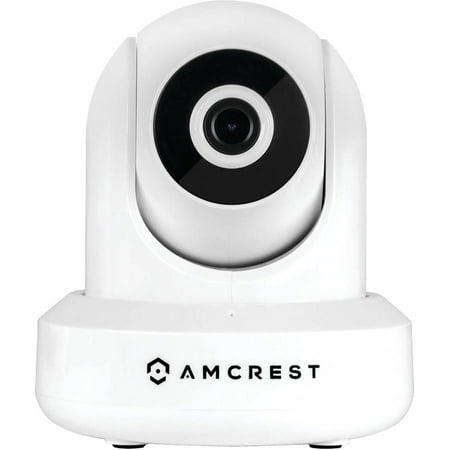 The Amcrest 1080p WiFi IP Pan/Tilt 2-Way Camera in white with Cloud Recording helps you stay in touch with what you love anytime, anywhere. With its 60-second mobile setup process, you will have secure access to your camera's video stream in no time. Stream live and playback recorded video of your home, your kids, your pets or your business on the go with the Amcrest View app. Amcrest Cloud offers optional cloud recording with free live viewing and four hours of free video storage accessible from any device including Apple Mac, Windows PC, Apple iPhone, iPad or Android devices. Amcrest cameras also record to an internal microSD card (not included) as well as to any Amcrest Network Video Recorder.
Amcrest IP2M-841W 1080p WiFi IP Pan/tilt 2-Way Camera with Cloud Recording:
Full HD 1080p video at 30 FPS with the latest Ambarella S2LM chipset and sony IMX322 sensor
Remarkable field of view with super-wide 90-degree viewing angle, remote pan/tilt, intelligent digital zoom and night vision up to 32′
60-sec WiFi setup via iOS or Android devices with Amcrest view app
Streams video and audio directly to smartphone, tablet, Mac or PC with free live viewing
2-way talk
Intelligent motion alerts
Secure SSL connectivity with https and aes encryption cloud recording and playback
Includes 4 hours of free cloud storage via Amcrest Cloud
Supports recording to internal SD card (not included) or an Amcrest NVR (not included)
White
Reviews
I'm very satisfied with this camera, it's very configurable and for a technology person like me that's the best deal you can get. If you are not a technologist you can just follow the basic setup and you should be ok also. I like the relay-out/in feature, it allows you to experiment with other devices, and if you have an arduino that will make things more interesting for you… The video is very good, I was expecting a little more but it's ok for the price and still way better than many other security cameras out there.
This is definitely a decent home security camera for the price. I love the two way audio feature. The night vision feature works really well. There are so many ways to customize the picture quality. I just keep it set to factory default because the picture looks fine. We did have some issues trying to set it up. The quick set up instructions are not clear enough. Especially for someone with little technical knowledge of these things. For someone who's looking into a home security system for the first time, they would have a problem even understanding all the different equipment such as the types of recorders available, and there are not a lot of explanations. I had to research a lot of the terms…such as "IP". I didn't know that stood for "Internet Protocol" I'm also having an issue setting it up on my laptop. The instructions do not clearly state what you have to download. I was having an issue with it going from color to black-and-white and I could not figure out why so I looked in the troubleshooting guide and found no answer. On my own I realized that it was the light in the room. If it's a little on the darker side then it goes night vision which I guess is displayed in black-and-white obviously. That piece of information should've been somewhere to be found. Anyway back to the positives… It's pretty cool being able to look at our house when we're away from home and even in the car.
It was a bit of a long process for me to set up since it has multiple abilities, but once finished it works like a dream. I also had never done a set up like that so I took my time familiarizing myself. The video is such a nice quality and even while night vision is in use I can make out objects pretty well in my room. Enough to see if anything is missing should anyone walk by and get a little too curious. The camera itself is kind of big, but it does well being disguised as a webcam sitting on top of my computer. (Shown in picture) I do not like to keep my wireless internet on while I am away for very long, so the option to be able to record video on an SD card is really great. My internet is not that good anyway so the streaming capabilities wouldn't be the best option for me. Even though I don't have a use for this feature just yet, having the microphone and speaker is really helpful. I didn't expect much from them, but they sounded surprisingly nice. I didn't give this five stars because of the odd file type that it saves as. I had to download a file converter in order to view the videos on my preferred media player. BUT that is just a personal annoyance. This little hiccup wouldn't stop me from recommending it!
I received the Amcrest IP2M-841W 1080p WiFi IP Pan/tilt 2-Way Camera with Cloud Recording, White to review and I absolutely love it. I can't compare it to others because I have never purchased anything like this nor have I really had the need to. I live in a very safe town so purchasing any kind of security camera never crossed my mind. I always imagined something like this would be hard to set up or the instructions to hard to understand, I love technology and all these gadgets as long as they are simple to install and understand the instructions. Now first of all I like the little box it came in, everything was neatly placed and protected. The camera isn't very large which is good if your goal is to try and place it somewhere and not have it call so much attention. I love that the quick start guide only consist of a few pages…to me that's always a plus because I panic when there is to much to read because I automatically think it requires to much to learn to use it. Honestly setting it up, downloading the app and synchronizing the wifi took less than 15 minutes. I played around with it and got the hang of it right away. I love the live stream. A CD is included that goes more into detail and shows how to set up different functions..but because I just want to keep it simple the App on the phone works just fine. The camera has a speaker where you can hear what's going on as well as a mic which I really like. The camera pan's so you can get a view of the whole room and it tilts. I'm amazed at how much this little thing can do. The picture on the camera is nice and clear and it has night vision so you can see whats going on even when it's dark. You can record, playback and even snap a picture with ease. I also like that their is alarm that you can setup to alert you in their is a sound or motion. I posted a video but it isn't really detailed… sorry also my bird wanted to make noise but it is a great camera , I'm sure you won't be disappointed and Walmart always has the best prices.
I was looking forward to having a security camera. The Amcrest IP2M-841W 1080 WiFi IP Pan/Tilt 2-Way Camera with Cloud Recording has issues that make it difficult to install and operate. If you can tell me what an "anti-dither setting" is, for instance, then you know more than I do. Set-up is not a breeze. It completely refused to cooperate. First, you need to plug your camera into a socket. If you're using a desktop computer, as I was, follow the Desktop Access instructions in your Quick Start Guide. I successfully completed Steps 1 through 7. I was able to see a bright, clear, colorful picture of the room. Looked great! So I moved on to Step 8, setting up the WiFi, and that's where I hit the brick wall. It took me over an hour to figure out what it wanted me to do. I input the modem password, as it asked me to, installed the Armcrest IP Config, and nothing happened, even though all the numbers that appeared on the computer screen were correct and the modem is in fine working order. The camera refused to connect to WiFi. I read the entire instruction manual at armcrest.com/wificameramanual, followed the instructions, logged in again, and lo and behold: my computer crashed. I'm sure under the right conditions, this is a great camera. Its picture is clear and beautiful when it works. It just did not work for me.